B-17 44-8683 - Great Whernside, Kettlewell

17th May 1945
Last updated 09.03.2011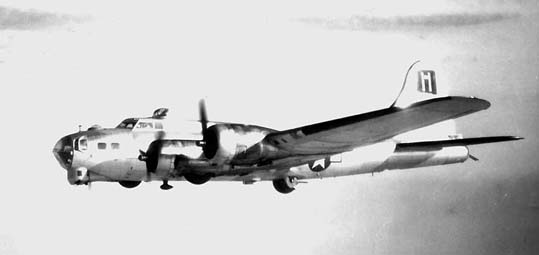 A 388th Bombardment Group (Heavy) B-17G
| | | | | | |
| --- | --- | --- | --- | --- | --- |
| Type | Unit | Base | Duty | Crew | Passengers |
| B-17G-75-VE | 561st BS / 388th BG | Station 136 Knettishall | Navigation training flight | 5 | - |
Built by Lockheed-Vega, Burbank, California, this aircraft was a veteran of some 12 missions over enemy territory with the 561st Bombardment Squadron (Heavy) from 14th April to 9th May 1945, which were flown by a number of crews and it is believed that it may have been known by a number of names - "Ikky Poo", "Just Joyce" and "Dear Mom" (or "Dear Mom II") - at different times and may or may not have carried nose art relating to these names. However, such names were very rarely mentioned in any official documentation and it seems crews often transferred their aircraft's name and/or nose art to their replacement aircraft, sometimes, but not always, adding a number (i.e. "II") to denote a new mount and the few documents that do mention them also show that these unofficial names can also often be attributed to more than one aircraft. Unless an aircraft is actually photographed bearing a name or nose art, with the serial number being recorded at the same time, it can be almost impossible to confirm such names and we cannot be sure which name (if any) this aircraft carried at the time of it's demise and it is highly unlikely that any such name was connected with the crew who were on the last flight.
On the 17th May 1945 Harry J. Cole and his crew were allocated 44-8683 for a 1000 mile navigational training flight from their base at Station 136, Knettishall, Suffolk to Newcastle, then to Lands End and back to base. The flight was part of the crew's redeployment training and was one of six flights over this same route. It is believed that on the second leg of the flight from Newcastle to Lands End the pilot noted that weather conditions were deteriorating and decided to abandon the flight and was in the process of turning back towards their base when at 15:50, the aircraft struck the mist shrouded side of Great Whernside at cruising speed, killing all five men on board instantly.
Though residents of nearby Kettlewell heard the aircraft passing overhead, no-one saw or even heard the impact and the burnt out wreckage was only discovered much later in the day by a passing shepherd.
Name
Position
Status
1st Lt.

Harry J. Cole

Pilot
K.
2nd Lt. Vance L. Ferguson
Co-pilot
K.
2nd Lt.

James M. Young
Navigator
K.

Sgt. Hoyt E. Dixon

Engineer
K.
S/Sgt

.

Dario Battista
Radio Op.
K.
Today only tiny fragments may be found where the aircraft actually impacted on the hillside, though numerous scattered small aluminium airframe remains lie on the surface at the bottom of the slope below this point, together with some steel components from the undercarriage operating system.
The diminishing scatter of small fragments from 44-8683 that lie below the impact point of Great Whernside today.
---
Acknowledgements:
Craig.Fuller (AAIR). Mark Sheldon, Alan Clark, Dick Henggeler (388th BG Database).
This page & all articles on this site Copyright © Nick Wotherspoon 2011