Blenheim BA246 - Bleasdale Fell

9th August 1944
Updated 10.01.2004
| | | | | | |
| --- | --- | --- | --- | --- | --- |
| Type | Unit | Base | Duty | Crew | Passengers |
| Blenheim V | N0. 12 (P) AFU | Woodvale | Night training exercise | 2 | - |
Deteriorating weather conditions over high ground could catch out even experienced pilots, as was the case with Blenheim BA246 of No. 12 (Pilot) Advanced Flying Unit Which took off from RAF Woodvale near Southport on the evening of the 9th August 1944. The Unit was tasked with carrying out advanced pilot training on Blenheims and was based at Woodvale temporarily whilst it's own base at Spitalgate, Lincs. underwent repairs to the runway. The aircraft in question was undertaking a night training exercise with the 22 year old pilot under the supervision of an instructor when weather conditions began to worsen. Despite this the crew apparently elected to continue with the exercise and sometime between 2340 and 2359 hours the aircraft struck the summit of Bleasdale Fell on the edge of the area of high ground known as the Trough of Bowland, bursting into flames and killing both occupants instantly.
| | | |
| --- | --- | --- |
| Name | Position | Status |
| Flt. Sgt. D.L. Edmonds | Instructor | K. |
| Flt. Sgt. J.C. Stones | Pilot under training | K. |
A surprising amount of wreckage still lies at the scene of the crash today, though the condition of many parts is poor, probably due to the effects of the fire and the exposed position of the site on open moorland. The most obviously recognisable components are the two main undercarriage legs lying close to the partially buried main wing-spar which still has remnants of the engine nacelles attached. Nearby in a gully lie many larger pieces of alloy, mainly comprising of what appear to be aluminium fuel cells. The engines themselves were no doubt intact and recovered at the time of the crash as there is no evidence of them at the scene today. A sad reminder of the human cost of this incident lay amidst the fragments on our last visit – an RAF issue airman's shoe.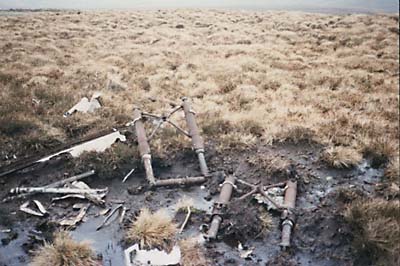 Main undercarriage legs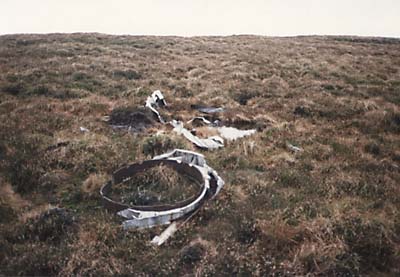 Turret mounting ring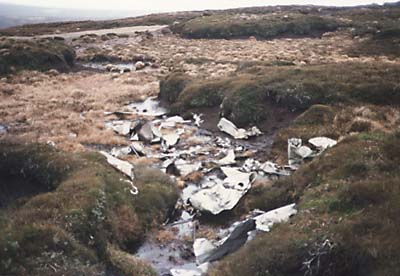 Fuel tank remains etc.
---
Acknowledgements:
Aldon P. Ferguson (History of RAF Woodvale), RAF Form 1180.
This page & all articles on this site Copyright © Nick Wotherspoon 2000