Canberra WD991 - Cottam, Preston

25th March 1952
Last updated: 04.12.2010
PLEASE NOTE: It has been brought to our attention that others have copied and used this article's material for publication without asking - we are always willing to share our research, but for this reason we would like to remind readers that this page and all the material on this site is copyright and the result of much hard work - therefore we require consultation if you wish to use any of this material.
| | | | | | |
| --- | --- | --- | --- | --- | --- |
| Type | Unit | Base | Duty | Crew | Passengers |
| Canberra Mk.2 | English Electric Co. Ltd | Samlesbury | Test flight | 1 | - |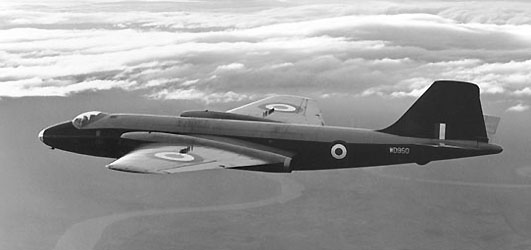 English Electric Canberra B2
This was the fifth Canberra to be destroyed, in an accident, in less than 12 months and although no common cause could be found, this led to the circumstances surrounding the loss of this aircraft to be subject to the most thorough scrutiny by the Accidents Investigation Branch.
| | |
| --- | --- |
| | |
| Crash site of WD991 on then open farmland North of Preston | "Tommy" Evans' funeral at St. Thomas' Church, St. Annes |
At 11.45am on Tuesday 25th March 1952, Canberra Mk.2 WD991 became airborne for the first time, as it took off from English Electric's Samlesbury airfield for the short first test flight to the company's nearby Warton airfield. The pilot for this trip was 29 year old Thomas Benjamin Oswyn Evans, who had first qualified as a pilot with the RAF in 1942 and had joined English Electric as a test pilot in November 1950. Though was still attached to 42 Reserve Centre, RAF Fazakerly, Liverpool and held the rank of Flight Lieutenant. He was to have been joined on this flight by another English Electric Employee, Mr Thomas Burnell to act as Flight Test Observer, but apparently a mix up over the issue of parachutes from the stores led to Evans taking off alone.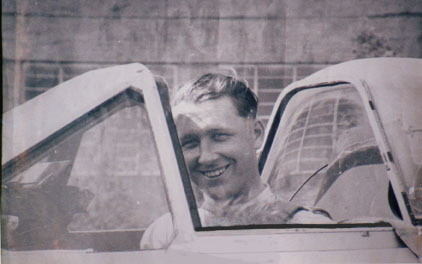 F/L Thomas Benjamin Oswyn Evans
| | | |
| --- | --- | --- |
| Name | Position | Status |
| F/L Thomas Benjamin Oswyn Evans | Pilot | K. |
WD991 had been inspected and certified fit for flight that morning and with fine weather conditions, the flight appeared routine, with all pre-take off procedures being carried out normally. Tommy Evans made no radio contact after take off, though this was normal procedure, and only four to five minutes later witnesses observed the aircraft flying level at approx. 1000 feet over the North of Preston. The aircraft was described as flying "low and fast" when suddenly it entered a steep dive, with no apparent attempt to pull out, striking the ground at an angle of approx. 80 degrees at an estimated speed of 400-450kts. WD991 instantly totally disintegrated, scattering wreckage for some 600 yards beyond the main impact crater and sending a column of black smoke into the sky. Despite much of the flight being over densely populated areas of Preston, the actual the impact was in a small area of open farmland on the edge of the town and the only nearby building - a bungalow on Valentine Lane - was damaged when it was peppered with debris, shattering all the windows facing the impact and tearing several holes in the roof - fortunately no one was at home at the time. At the time of the crash and ever since there has been conjecture as to whether this was indeed merely good fortune or that Tommy Evans still had some control and was deliberately heading for open ground? - he was without doubt a most capable pilot and it would certainly make sense as to why he did not take the option of ejecting from the stricken aircraft before he lost too much height - if this was indeed the case, being on his own in the aircraft must have certainly made such a decision easier...
| | |
| --- | --- |
| | |
| Graphic evidence of the force of impact -the fragmentary remains of WD991 | The cause of the crash? - The crushed 2BA box spanner found amongst the debris |
Such was the complete destruction of the aircraft that it made the job of the Accidents investigation Branch a difficult one and all the wreckage recovered was taken back to Samlesbury and laid out in a Hanger for detailed inspection. From this it was ascertained that no failure of the flight controls had occurred and that the aircraft had been trimmed for level high-speed flight at about 450-500kts. Engine malfunction was also ruled out as unlikely with no evidence of any pre-crash fire and further theories citing anoxia or accidental inflation of the dinghy in the cockpit were also ruled out. However the possibility of an elevator being jammed down gained importance with the finding of a crushed 2BA box spanner amongst the debris. Examination of this tool showed that it had been trapped between three points causing bending and cracking of the spanner and although it could not be proved, it was felt that it was certainly possible that this small tool could have prevented movement of the control column and thus affected elevator adjustment.
WD991's actual impact site is now covered by a housing development and the cottage on Valentine Lane has been renovated, with a new roof and window frames - removing all traces of the drama which took place 50 years before. However as the development of the area continues in phases, we have been in consultation with the developers for some time and recently a new road off Cottam Way, in the area affected by the debris from the crash, has now been named "Canberra Lane" in recognition of the event and we still hope that a formal memorial may be incorporated in the future.
| | |
| --- | --- |
| | |
| Flt Lt T.B.O. "Tommy" Evans | His grave at Lytham St Annes Park Cemetery |
Flt Lt T.B.O. "Tommy" Evans was certainly a very experienced pilot with 2479 hours flying experience, some 57 of which were on the Canberra, which he first flew in February 1951. He had been selected as one of the company's display pilots and at Farnborough in 1951, "Flight" magazine noted how expertly he coped with a burst tyre on landing, due to brake seizure on the Canberra B.5 at the show. He is buried at Lytham St Annes Park Cemetery, where despite his very public funeral attended by many well known aviation personalities of the time, his grave remained unmarked until the early 1990s when the situation was discovered by one of his son's on a visit from the family's new home in Australia and the simple, but effective, headstone above was placed.
---
Acknowledgements:
AIB Report (PRO Refs Avia 5/32, BT233/81), MOD AHB, Mark Gaskell, Flight magazine (21.10.1951), Lancashire Evening Post (various articles), Mr Thomas Burnell (Deceased), Russell Brown. Bryan Evans.
This page & all articles on this site Copyright © Nick Wotherspoon 2003