Defiant N3328 - Gisburn

24th October 1942
Updated on 10.01.2004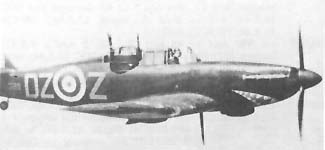 Defiant Mk.1 N3328 during its time with 151 Sqn.
| | | | | | |
| --- | --- | --- | --- | --- | --- |
| Type | Unit | Base | Duty | Crew | Passengers |
| Defiant Mk.1 | No.10 AGS | Barrow | Ferry flight | 1 | - |
Defiant Mk.1 N3328 was first taken on charge by No. 10 M.U. on 13.11.1940 and allocated to No. 151 Squadron as a night fighter on 12.12.1940, where it remained until August 1941. After having been returned to Reid and Sigrist, presumably for modification, it was later allocated to No.1 Air Armament School at Manby on 08.04.1942 and from there it was allotted to No.10 Air Gunners School at Walney Island near Barrow. On 23rd October 1942 Flight Sergeant John Leslie Goulter from No.10 AGS was flown to Manby via Grimsby, as a passenger in an aircraft flown by the Officer in Command of No.10 AGS, Squadron Leader Hubert Norman Gravenor. En route he was briefed regarding his duties concerning the collection of the aircraft from Manby.
| | |
| --- | --- |
| | |
| F/Sgt John Leslie Goulter | His grave at Barrow. |
| | | |
| --- | --- | --- |
| Name | Position | Status |
| Flight Sergeant John Leslie Goulter | Pilot | K. |
At 10.40 on the 24th October 1942, Sgt Goulter took off for the estimated one-hour approx. flight. Although he had been briefed for a route via Doncaster, Selby and Harrogate, it was later found that he had in fact taken a more direct Route. He was still on course for his chosen route when he arrived over Barnoldswick during a severe hailstorm at approx. 11.30 and proceeded to circle the town above the cloud base. It was assumed that for some reason Sgt Goulter had lost confidence in his position and was seeking to verify his location. However he was almost certainly all too aware that he was likely to be in the proximity of high ground and knowing the danger would have been very reluctant to descend through the cloud. It seems likely that he lost control of the aircraft whilst flying on instruments in the cloud and stalled into the ground.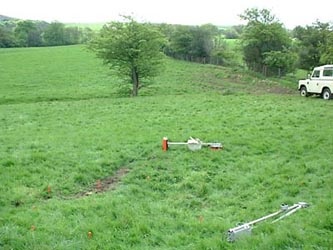 Only a slight depression marked the crash site of N3328
Eyewitnesses to the final moments of the flight heard the aircraft before they caught site of it and observed it come out of the low cloud, variously estimated at about 600 - 1800 feet. Though visibility below this was severely restricted, first by the hailstorm and then by the heavy rain which followed. The aircraft emerged at a steep angle of approx. 45 degrees and dived straight into the ground under power. All recalled there being a loud explosion and those who ran to the scene found the bulk of the aircraft embedded deeply in the ground with fragments scattered about. No crew had been seen to bail out and no immediate sign of the pilot was evident from the wreck. It was some hours later when home guard personnel digging on the site discovered evidence of the fate of the unfortunate pilot and a proposed search party to comb the surrounding area was called off.
The following day personnel from No.10 AGS arrived at the crash site and they confirmed the identity of N3328 and began to remove parts of the aircraft from the crater, eventually they managed to recover Sgt Goulter's body and removed it to RAF Station, Barrow. Also found was the pilot's personal satchel containing three maps, still folded and obviously not used on the flight. The investigation report noted that although Sgt Goulter was an excellent pilot he was relatively inexperienced in cross-country navigation, and that this was his first such ferry flight, collecting an aircraft from an unfamiliar station. His apparent lack of use of the maps provided and deviation from the course given to him were noted as factors contributing to the accident. However he was directly on his chosen route and it is not stated whether the original route would have avoided the extreme weather conditions. Finally one witness interviewed during our investigation clearly recalled seeing a large section of outer wing at the crash site immediately after the crash with the gap between the wing and its attached flap being filled with impacted hailstones...
| | |
| --- | --- |
| | |
| A distinct dark shadow in the soil was revealed | The excavator began to reveal substantial remains |
Our excavation of N3328 took place on Saturday 25th May 2002, a 6-ton tracked excavator from the start in view of the ground conditions and the fact that a previous excavation was know to have been undertaken in 1982. As predicated the first three feet or so of soil removed revealed very little trace of N3328, due to the previous hand-dig, but once this material was removed a distinct dark shadow in the soil was revealed and our detecting equipment continued to register a major contact below.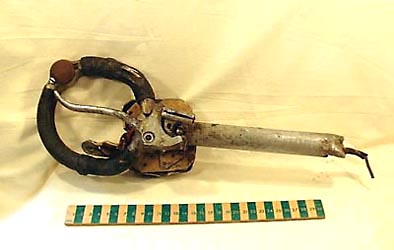 N3328's control column with remarkably intact spade-grip
As the day went on the weather improved, as did our spirits has the excavator began to reveal substantial remains of the Defiant - first a main undercarriage leg and shredded tyre, then an escape axe, instruments, switches and sections of wiring from the cockpit area. However it soon became apparent that objects were being uncovered in a haphazard order, as the machine shuddered on contact with a very solid object about six feet down. This proved to be the propeller boss with one full blade and three quarters of another still attached - this took an hour of careful digging to prise free and recover intact - and once removed revealed much further wreckage below. Normally this item would be expected to be the deepest found. Immediately under the prop a remarkably intact control column with spade-grip was a spectacular find, though despite finding three cylinder liners with pistons, the generator, oil pump, hydraulic and coolant pumps, starter motor and the shattered carburetor - no engine was found.
Later whilst interviewing local witnesses it emerged that a small crane and several days digging were required to recover the engine just after the crash. As we started sorting the large pile of fragments recovered during our dig - a couple of broken links of heavy duty chain, a pair of wire cutters and numerous period empty food cans showed that it must have been quite a struggle! Though after all their efforts the investigation report merely states that the engine was too disintegrated for examination.
The pilot - 22 year old Flight Sergeant John Leslie Goulter from Glen Niven, Queensland, Australia who was sadly killed in this crash is buried in Barrow-in -Furness cemetery, Sec. 5 Nonconformist. Grave 2017. His relatives in Australia still proudly keep his memory alive and kindly provided LAIT with copies of his Australian Archive file and the photograph of him used here.
---
Acknowledgements:
Kevin Mount, RAF Form 1180, Australian Archives file 163/118/512, Neil and Ruth Cliffe, Roy Brown, Russell Brown, Peter G. Yuile.
This page & all articles on this site Copyright © Nick Wotherspoon 2003