Halifax L9619 - Keld

16th February 1942
Updated: 14.12.2004
| | | | | | |
| --- | --- | --- | --- | --- | --- |
| Type | Unit | Base | Duty | Crew | Passengers |
| Halifax II | No. 10 Squadron | Leeming | Op: St Nazaire | 7 | - |
Though only just within the intended area for this selection of High Ground Crash sites, I felt the circumstances behind the loss of this aircraft were of sufficient interest to warrant inclusion. Halifax L9619 took off at 1800 hours from No. 10 Squadron's base at Leeming for a night bombing operation against the target of St. Nazaire. Due to cloud cover the aircraft spent too long over the target area, before the pilot decided that the bombs could not be dropped with any degree of accuracy and elected to bring them home. On the return journey the cloud cover again became a problem, as the crew became lost and were unable to locate their base. Believing they had overshot Leeming and with the fuel situation appearing to be critical, the crew elected to abandon the aircraft and all made successful parachute descents, landing near to Appleby. The aircraft however, continued on, eventually crashing into high ground near the village of Keld, at 0140 hours and was completely wrecked. Although the pilot had some 500 hours solo flying to his credit, he had only accumulated 25 hours on Halifax's, only 15 of them at night and the Form 1180 records that disciplinary action was taken against him in relation to this incident.
| | | |
| --- | --- | --- |
| Name | Position | Status |
| Flt.Sgt. E.O.S. Lloyd | Pilot | U. |
| P/O L.D. Hillier (RCAF) | Co-pilot | U. |
| Sgt. Thain | Flight engineer | U. |
| Sgt. Mapes | Navigator | U. |
| Flt.Sgt. Guertin | Wireless operator | U. |
| Sgt. Mathias | Air gunner | U. |
| Sgt. Clifford | Air gunner | U. |
The crash site of L9619 can be quite difficult to find as no major parts of the aircraft remain today and being close to that of Mosquito NT544, parts may be confused as both were powered by similar Merlin engines. It would appear that the impact with the moor was a heavy one and although most of the major sections of the aircraft were recovered at the time, the bomb load was apparently too deeply buried and was left, marked with a warning notice! A few small corroded panels still remain along with several hundred rounds of live 0.303 ammunition close to the old post, which once carried the warning about the unexploded bombs left at the site.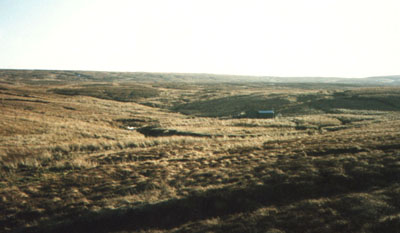 L9619 impacted just below the ridge (centre)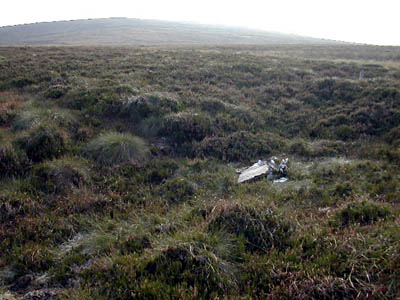 Small parts and the post (background, left) only mark the site today.
---
Acknowledgements:
Chorley W.R. (RAF Bomber Command Losses Vol.3), RAF Form 1180. David Hanson, Alan Clark, Mark Sheldon (recent photo).
This page & all articles on this site Copyright © Nick Wotherspoon 2000