Hurricane PZ848 - Smithills, Bolton

2nd February 1945
Last updated 13.11.2010
| | | | | | |
| --- | --- | --- | --- | --- | --- |
| Type | Unit | Base | Duty | Crew | Passengers |
| Hurricane IIC | 11 (P)AFU | Calverley | Local Training Exercise | 1 | - |
On the afternoon of the 2nd February 1945 two Hurricanes, assigned to No.11 Pilots Advanced Flying Unit took off at approx. 1:40pm from the unit's base at RAF Calverley in Cheshire. The aircraft concerned were PZ848 piloted by 21 year old Warrant Officer Norman Thomas Huckle and PG472 piloted by Flight Sergeant Thomas Stanley Taylor, also 21. The first of these, PZ848, a Hurricane Mk IIC had been delivered to No.22 MU on the 18.07.1944 and from there on to 11 (P)AFU on the 13.01.1945, making it practically a new aircraft.
The two pilots were cleared for local flying exercises close to Calverley, but some 20 minutes later they were flying over the high ground to the North of the Lancashire mill town of Bolton. The subsequent inquiry noted that the two aircraft must have flown, in formation, directly after take-off to have reached this area in this time, though the pilot's reasons for taking this action are unclear. One witness did come forward, following an article we placed in a local paper appealing for information. This informant stated that one of the pilots was in fact engaged to a young woman who worked at the same factory as herself and that an impromptu air display had been arranged, but sadly the aircraft never turned up.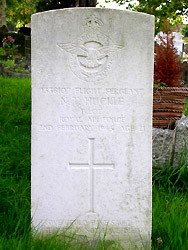 W/O Huckle's Grave
| | | |
| --- | --- | --- |
| Name | Position | Status |
| Warrant Officer Norman Thomas Huckle | Pilot | K. |
At approx. 2.00pm the two aircraft are believed to have been flying in formation at some 6-7000 feet over the Smithills area to the North West of Bolton, when they collided in cloud. Both aircraft dived out of the cloud, out of control, over an area of high ground, PZ848 diving into a field close to Horrocks Fold Farm and only a hundred yards or so from a road. The force of the impact was such that the aircraft was completely destroyed, only the shattered tail unit remaining recognisable on the surface according to witnesses. The bulk of the aircraft imbedded itself in an area of soft peat, in the otherwise rocky field and penetrated to a depth of some 10 feet before hitting a layer of hard shale. Warrant Officer Norman Thomas Huckle from Brondesbury is buried at Willesden New Cemetery, Middlesex, Section A. Grave 470.
Initial research into the site of PZ848's demise appeared promising, with the only excavation known having been carried out by hand in the 1970s. This together with signals from both our Fisher and Forster deep-seeking detectors appeared to indicate a further deeply buried wreckage and a decision was made to carry out a full scale excavation using a mechanical digger. As the JCB began to clear first few feet of soil it became clear that little remained at this level and that the usual soil discoloration was heavily disturbed and difficult to interpret. Though this was to be expected due to the previous dig, the disturbance was much greater than had been anticipated, however the detectors continued to indicate more deeply buried wreckage and the dig continued. We soon realised that the site had obviously been subject to a much more extensive excavation than we had thought and subsequent enquiries indicate an unknown group using a mechanical digger carried out a second dig in the 1980s. At approx. 8 feet a large lorry tarpaulin was uncovered containing a mass of aircraft wreckage - all apparently discarded and thrown back at the end of the previous dig (see illustration below).
Careful sorting through the spoil and the mass of uncovered wreckage did however yield some interesting finds, including: the bomb arming and IFF switch panel from the cockpit, main radio instruction plate, sections of framework from the sliding canopy,, part of the instrument panel, boost gauge face, parachute harness fittings and many other smaller parts. Although the RAF Form 1180 stated that the aircraft had burned on impact, there was little evidence of this and most of the artifacts were in excellent condition. It was noted that the tarpaulin contained almost all the large bore copper coolant pipes which had once connected the engine to the aircraft's under slung radiator - it seemed surprising that these should have been discarded as they represent a fair weight of clean copper scrap in addition to their historical value.
Though the excavation of PZ848 was not a particularly successful project, as regards artifacts recovered, it proved to be a satisfactory conclusion to our research into this incident and did provide at least a selection of representative items for a future display.
---
Acknowledgements: RAF Forms 1180 & 78, Mr. J. Molyneux (WWIG), Mr. J. Wilkinson, Alan Clark (photo).
This page & all articles on this site Copyright © Nick Wotherspoon 2001