Hurricane V6811,

Dalton-in-Furness

15th October 1940
Last updated: 22.11.2010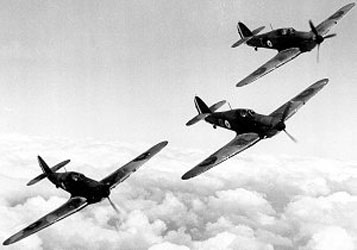 A flight of three Hurricanes during the Battle of Britain
| | | | | |
| --- | --- | --- | --- | --- |
| Type | Unit | Base | Duty | Crew |
| Hurricane I | No. 312 Squadron | RAF Speke | Dusk Patrol | 1 |
Not all Fighter operations during the period of the famous Battle of Britain involved contact with the enemy concluding with inevitable dogfights – Many involved long routine patrols guarding Britain's shores, without so much as a sighting of an enemy aircraft. After the chaotic air battles over France, that many of No. 312's pilots would have taken part in, such duties must have seemed mundane. But they were not without their own dangers as a flight of Hurricanes from the Squadron, found out as they were patrolling the coast of Lancashire. Tuesday the 15th of October 1940 saw some 550 enemy fighters and bombers attacking London, the Thames Estuary and Kent in five waves and that night an even heavier assault on the capital as some 300 bombers, in the light of a full moon, gave Londoners a foretaste of the Blitz to come. But for now this intense activity was focused to the south and early that evening two flights of hurricanes, Red and Yellow sections of No. 312 Squadron, took off from Speke at 17:30 hours for a Dusk patrol over the Lancaster area, with instructions to return at 18:25 hours. Red section did indeed land as instructed, but there was no sign of Yellow section consisting of Squadron Leader Jan K. Ambrus flying No. V6846, Pilot Officer T. Vybiral flying No. V6811 and Flight Lieutenant H. A. G. Comerford in Hurricane No. V6542.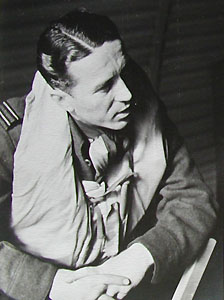 P/O Tomas Vybiral
| | | |
| --- | --- | --- |
| Name | Position | Status |
| P/O T. Vybiral | Pilot | Ok. |
It appears that Yellow section became lost over the sea in deteriorating weather conditions and the failing light, after Squadron Leader Ambrus, who knew his position, followed Flight Lieutenant Comerford, who he believed had sighted an enemy aircraft. Though the flight was fortunate in regaining the coast and found themselves once again over land on the Barrow peninsular, their fuel situation was becoming critical and both Comerford and Vybiral were soon forced to abandon their aircraft. Flight Lieutenant Comerford ran out of fuel and bailed out at 19:00 hours, landing near Dalton-in-Furness, with slight injuries having struck his head on the tail of his aircraft as he left it. His aircraft dived vertically into farmland at Gleaston narrowly missing a cottage by only twenty yards. Flight Lieutenant Comerford was subsequently rendered non-effective for a while due to his injuries. At about the same time Pilot Officer Vybiral also ran out of fuel and bailed out, leaving his aircraft to crash into farm land near Dalton-in-Furness. He landed close to Whinfield Farm Lindal, where it appears that he was mistaken for a German airman, due to his accent, by the farmer's wife and not being able to convince her otherwise, he found himself locked in a barn until his identity was confirmed. The flight had been observed by a number of local witnesses in the Dalton-in-Furness area who recalled seeing the aircraft flying overhead and then observed two of them fly into the ground, but to their relief most soon saw the two parachutes blossom in the sky. A local police officer saw one of the pilots on his parachute and armed with a .303 rifle, he commandeered a Ribble bus to take him to the spot where the pilot landed. This is believed to have been Pilot Officer Vybiral and on arrival at the farm, the policeman found himself "rescuing" the unfortunate airman, having quickly established his true identity. Squadron Leader Ambrus continued flying until his fuel ran out and then carried out a well executed wheels up forced landing on farm land south of Over Kellet, near Carnforth at 20:00 hours leaving a furrow across the field. He was not injured and the aircraft was not too badly damaged and was subsequently repaired. The official enquiry into the incident later concluded that the flight should have kept sight of land and landed 20 minutes before blackout as instructed, no further action was taken against the pilots and this was to be the Squadron's last accident of the Battle of Britain period.
As we began to investigate this incident, we first discovered that Flight Lieutenant Comerford's aircraft, serial No. V6542 had dived vertically in to farmland and been completely destroyed. However, the crash site had been located in 1977 by the Warplane Wreck Investigation Group from Merseyside, assisted by local aviation enthusiast John Smallwood. They had carried out a full excavation using a JCB machine during which the propeller hub and a few other fragments were recovered and these items were placed on display in the Fort Perch Rock Museum at New Brighton, though it is not know if they are still there. It seems that this group then went on to attempt to locate the crash site of Pilot Officer Vybiral's Hurricane serial No. V6811, but although they believed that they had found the location, permission was not forthcoming for a dig to be carried out at that time.
| | |
| --- | --- |
| | |
| Plenty of onlookers for our excavation of Hurricane V6811 in March 2005 | Willing volunteers carry out the initial cleaning and sorting of the recovered artifacts at the dig site. |
In November 2004 a small group from the Lancashire Aircraft Investigation Team resumed the search for the crash site of V6811, also assisted by Mr Smallwood and tracking down one of the individuals involved in the earlier search certainly saved us a lot of time. The aircraft had impacted on the lower slopes of a hill above a fairly steep slope to a small lake below and we soon located several, shallow detector finds including a cockpit lamp holder with the remains of the bulb still in place and a 1939 dated .303 calibre round, with the rusted remains of a link attached indicating that it was from a machine gun. As usual these finds were systematically marked with pegs and a cluster of signals around a distinct shallow depression soon became apparent. This spot gave a clear medium strength signal from our Fisher Gemini and several distinct readings from the Forster, indicating that moderate remains lay more deeply buried. A sketch map of the site was made and a GPS reading taken and following further talks with the landowner, an MOD permit was applied for. Having dealt with all the formalities, on the 19th March 2005 members of the Lancashire Aircraft Investigation Team and the former RAF Millom Museum gathered at Dalton-in-Furness the excavation. Using a small tracked excavator, as the slope of the site made a larger or wheeled machine impractical, we began by stripping away the topsoil and soon started to see evidence of the crash in the form of corroded aluminium fragments and parts of copper radiator cooling fins. Digging proved difficult, as the original RAF recovery crew appeared to have back-filled the crater with many large stones and there were few finds to be seen as these were removed. However at a depth of about seven feet below the surface there was cache of aircraft remains, including some engine ancillaries such as the generator, a large section of main wing spar and one of the main undercarriage legs. Below this was the rudder counter balance weight and a few small finds kept emerging in the next few feet, mainly consisting of broken engine casing and one cylinder liner, indicating that the Merlin engine must have shattered on impact. Finally at about ten feet below the surface the red sandy soil gave way to boulder clay level and a rusted "spam" tin and an intact glass pop bottle of 1940s vintage from a local firm, were found in this, before clean clay was reached at about thirteen feet. Surprisingly few parts from the cockpit were found, perhaps indicating that the forward fuselage survived the impact with the sandy soil relatively intact and was dragged clear in one piece, though the face from the airspeed indicator and the emergency kick down lever for the main landing gear were found whilst checking through the spoil before back-filling. It appeared that the aircraft had penetrated the ground to a depth of about ten feet where the engine probably broke up as it hit the boulders and the RAF recovery crew then seem to have made a remarkably thorough job of the subsequent clean up operation, even disposing of their own rubbish carefully!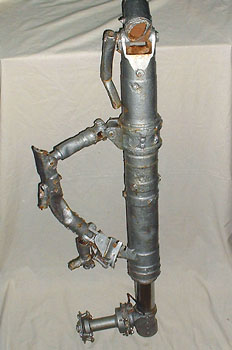 The only major part of V6811 found, a main undercarriage leg, in remarkably good condition after 65 years burial.
Pilot Officer Tomas Vybiral had graduated as a Lieutenant in the Czechoslovak Air Force in 1936 and escaped to France when Czechoslovakia was overrun in 1939. He then served as a lieutenant with the Groupe de Chasse I/5 (GC I/5), Flying Curtiss Hawk H-75s from their operational base at Suippes near Reims and had been credited with five shared victories and an Me110 confirmed destroyed. On arriving in Britain, he was assigned to No. 312 Squadron at Duxford in September 1940, becoming commander of "B" flight on 5th June 1941 and leaving for No. 41 squadron on 19th June 1942. He returned to command No. 312 as Squadron Leader on 1st January 1943 remaining in this position until November of that year. In February 1944, the three Czechoslovak fighter squadrons; Nos. 310, 312 and 313 were assembled into No 134 (Czech) of the Second Tactical Air Force (2nd TAF) at Mendlesham, Suffolk and led by the now Wing Commander Tomas Vybiral. He was awarded the a number of Czech and French decorations as well as the DFC in July 1944 and the DSO in December 1944, after the war he left the RAF and returned to Czechoslovakia though was forced to flee again in 1948 after the Communist coup there and returned with his family to England. He died in London in 1981 aged 69 and is buried alongside his wartime Czech comrades at Brookwood Military Cemetery.
---
Acknowledgements:
Mark Gaskell, John Smallwood, Pavel Vancata.

This page & all articles on this site Copyright © Nick Wotherspoon 2010