Lightning F53 53-690, Pilling

4th September 1968
17.12.2004
| | | | | | |
| --- | --- | --- | --- | --- | --- |
| Type | Unit | Base | Duty | Crew | Passengers |
| English Electric Lightning F53 | BAC | Warton | Test Flight | 1 | - |
30 year old BAC Test Pilot, John Cockburn took-off from the company's Warton on 4th September 1968 for a routine test flight of a new Interceptor. The aircraft had made its first flight on 20 August 1968 at the company's Samlesbury airfield and was destined for export to the RSAF Royal Saudi Air Force in Jeddah. Shortly after take-off a fire developed in the aircraft at 400 feet and the pilot took the Lightning up to 4000 ft, intending to head for the coast and ditch the aircraft in Morecambe Bay, but after losing elevator control he was forced to eject. Accompanying him on the flight in a second Lightning was Preston Division's chief Test Pilot, Jimmy Dell, who observed Cockburn landing safely and then reported the incident and returned to Warton.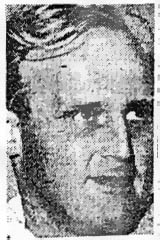 John Cockburn
| | | |
| --- | --- | --- |
| Name | Location/Position | Status |
| John Cockburn | Pilot | S.I. |
At the village of Pilling, 12 miles to tne North of Warton few people took any notice of the two planes overhead, or saw the stricken aircraft as it plunged vertically out of the low cloud, but people for miles around it seems heard the tremendous explosion as it impacted. 53-690 narrowly missed several houses and the local pub, as it dived into the centre of Pilling, coming down behind a pair of semi-detached cottages and hitting a greenhouse and outbuildings. The force of the impact hurled fragments over a wide area and the largest, an undercarriage unit, landed in the nearby yard of a haulage firm, again damaging outbuildings and striking the wall of the office. At the cottages, one occupant was outside at the time and blown off his feet, whilst his wife, in the kitchen to the rear of the property, was slightly injured when part of the wall blew in. The house was severely damaged and the couple were moved to a nearby council house until repairs were completed.
| | |
| --- | --- |
| | |
| The crater was some 30 yards across! | Damage to outbuildings caused by the blast |
The resulting crater, estimated to be between 15 and 35 feet deep and some 30 yards across, proved too unstable to excavate when the recovery crew arrived to salvage the remains of the fighter. It is reported that they even resorted to freezing the ground around it with liquid nitrogen in an attempt to reach the buried wreckage, but to no avail. The cottages were soon repaired and the greenhouse rebuilt leaving no visible scars to remind the returning occupants of their dramatic escape.
The occupant of this kitchen had
a miraculous escape.

Little remained of the greenhouse in the foreground &
the haulage yard buildings were torn by flying debris.
---
Acknowledgements:
Russell Brown, Lancashire Evening Post, M. Bowman (English Electric Lightning, Crowood, 1997).
This page Copyright © Nick Wotherspoon 2004