P-38 42-12905 - Dunsop Fell

26th January 1943
Updated 14.11.2010
| | | | | | |
| --- | --- | --- | --- | --- | --- |
| Type | Unit | Base | Duty | Crew | Passengers |
| P-38F | 83rd Fighter Squadron, 78th Fighter Group, US 8th AAF | Goxhill | Ferry flight | 1 | - |
Though this incident involved a collision between the subject aircraft and P-38 42-12928, they have been treated separately to avoid confusion between the two crash sites, though the historical background text is by necessity basically the same on both pages. Much of the information on this incident is to be found in Garry L. Fry's book "Eagles of Duxford" (US: Phalanx, 1991. ISBN 0962586021) as unfortunately no crash record has been traced.
Mid January 1943 saw the decision being made to urgently ship the US 8th Air Forces P-38 Lightning aircraft to North Africa and to re-equip the 78th Fighter Group with P-47 Thunderbolts for their forthcoming escort duties. This required the P-38s to be flown to BAD 3 (Base Air Depot) Langford Lodge in Northern Ireland for the required modification for use in dusty climates, before they were flown on to North Africa. Early on the morning of the 26th January a large group of some 45 such aircraft were en-route to Ireland from the groups base at Goxhill in Lincolnshire, when they encountered heavy cloud over the North of England. Struggling to maintain formation in deteriorating visibility, two of the aircraft collided over the high ground of the Trough of Bowland and fell to earth almost immediately. Neither pilot made any apparent attempt to escape their stricken aircraft, perhaps due to injury, or having been killed in the initial collision and the two aircraft crashed with a mile and a half of each other on the bleak Lancashire moorland below. The same day a further 78th Fighter group pilot was lost en route to North Africa, ferrying one of the modified P-38s from Ireland. The loss of these three pilots was a serious blow to moral within the group as they were the first casualties since arriving in England.
| | | |
| --- | --- | --- |
| Name | Position | Status |
| 1st Lt. H.L. Perry | Pilot | K. |
The crash site on Dunsop fell, although easier to find than that on Baxton Fell, contains far less wreckage and is spread over a larger area of the moor, suggesting that 42-12905 may have broken up in the air. Also the ground is much more marshy - it is in fact an important water catchment area - and it is possible some wreckage lies buried, though there have been a number of investigations of this site by enthusiasts in the past. Also it is interesting to note that whilst the ammunition boxes recovered from 42-12928 were empty, it is still possible to find live 20mm ammunition on the Dunsop Fell site and care should be exercised to avoid picking up unfamiliar items.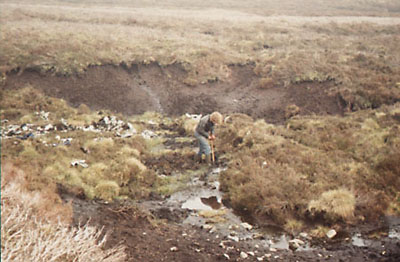 A few scattered fragments are all that now remains of P-38 42-12905 and on our visit in 2001 most of the material seen above in the early 1980s had disappeared!
Update2001: Despite numerous attempts we have been unable to obtain incident reports from the USA for this aircraft and P-38 42-12928, so we have still not been able to confirm which aircraft is which - Even the deceased aircrew files for each of the pilots fails to be precise as to the location of each incident, or indeed give any further details as to the cause of the crash. During 2001 three visits were made to this site in order to attempt to find an isolated cache of wreckage seen in the area by David Earl a couple of years before. We eventually found several "new" pieces of aircraft in a shallow gully, but it was noticeable that the amount of wreckage was somewhat depleted when compared to photographs provided by David, leading us to wonder how long it will be before these sites disappear altogether.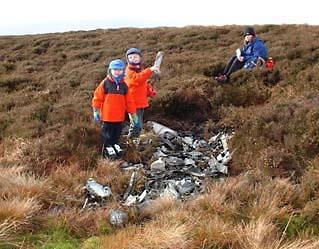 Third time lucky!
Update 2008: A site visit was made in March following information received via email from a walker, who we had given location details to enable him to find the site, to say that a small fragment possibly bearing the aircraft's serial number had been found amongst the few debris still remaining. As the official investigation records are still unavailable in the US archives, it has never been possible to establish with any certainty which crash site is actually the remains of which aircraft. My youngest son soon located the fragment (below) and it did indeed bear the aircraft's serial number and manufacturers construction number. Though not conclusive proof at this stage as although unlikely, it is possible that it could have dislodged from either aircraft in the collision. It was however, proof that the cowling and removable panels of these aircraft were marked - if you knew where to look as the markings were relatively small. We carried on and attempted to locate the second crash site, but changing weather conditions and lack of time beat us on this occasion. On a visit later in the year to the P-38 42-12928 site, no less than five panels were recorded, all bearing that aircraft's serial number and constructor's number - finally proving beyond doubt the identity of each crash site.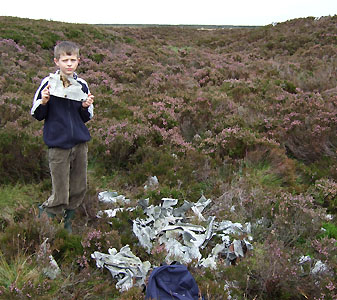 Note: this is almost the same view as the early 1980s photo above!
---
Acknowledgements:
Garry L. Fry (Eagles of Duxford), Peter Moran. David W. Earl.Rich Allenby, Alan Hudson.
This page & all articles on this site Copyright © Nick Wotherspoon 2000