P-47 Thunderbolt 42-8621 - Freckleton

6th February 1944
Last updated: 07.10.2001
| | | | | | | |
| --- | --- | --- | --- | --- | --- | --- |
| Type | Serial | Unit | Base | Duty | Crew | Passengers |
| P-47 | 42-8621 | 8th A.F.S.C. 27th A.T.G. 310th F.S. | East Wretham, en route to Warton | Ferry flight | 1 | - |
On 6th February 1944 Capt. Charles Francis was acting as Flight leader, supervising a flight of five P-47s on a ferry flight from East Wretham to Warton, the other pilots being, F/O John R. Runnells, Lt Giles, 2nd Lt. Donald L. Mosher, Lt. Johnson. He had been given clearance to lead the flight of P-47s belonging to the 359th Fighter group to Warton for modification, although warned that weather conditions were questionable, he decided to proceed. Of the five airmen, it was later reported that he was the only member of the group with any experience of British weather conditions and navigation over wartime England. Some ten minutes later at 14.10 the weather Officer received a report that conditions over the destination area had deteriorated and managed to contact Capt. Francis just before his flight took off to inform him of the change in conditions and advised him not to go. Despite this he insisted on continuing and at 1450 the flight taxied out and took off, although one aircraft presumed to be that of Lt. Johnson, did not take off and remained at East Wretham. Immediately after take off Lt. Giles was unable to find the flight and proceeded alone. The other three aircraft continued, finding better weather at approx 2000 feet, but on approaching Liverpool they ran into zero visibility and were forced to fly on instruments. At this point 2nd Lt. Mosher lost contact with the flight and subsequently managed to land at Ringway.
Quite what happened to Capt. Francis and F/O Runnells from this point is unclear, but it seems probable that they became separated in the fog as they continued on instruments. Runnells became lost and probably began to circle, hoping to find a break in the cloud, until his fuel ran out and he was killed in the subsequent crash whilst attempting a forced landing on Pendle Hill. No doubt unaware of the fate of the other two aircraft and unable to search for them due to the prevailing lack of visibility, Capt. Francis had little option but to continue to his destination and hope that they had managed to land safely elsewhere.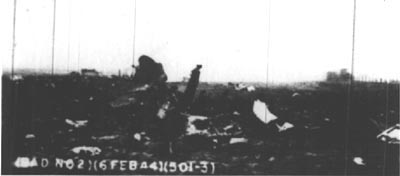 Little remained of P-47 42-8621
Capt. Francis apparently had something of a reputation as a good "bad weather pilot" and had often practiced approaches in conditions of poor visibility. This skill and his experience of British weather conditions and navigation no doubt helped him to continue on course and at 16.30 he was observed approaching Base Air Depot 2 (BAD2) at Warton. As several witnesses on the ground heard the engine of his plane and looked skywards, they were surprised to see the P-47 suddenly dive almost vertically into the ground under power and explode on impact. The plane impacted at an 80 - 85 degree angle and parts were widely scattered by the violent explosion, which was followed by a fierce fire that destroyed much of what remained of the aircraft. According to witnesses the body of the pilot was thrown clear, but those first on the scene quickly realised that he was beyond help.
| | | |
| --- | --- | --- |
| Name | Position | Status |
| Capt. Charles Francis | Pilot | K. |
Capt. Charles Francis, from Texas, is buried at Cambridge American Cemetery, Cambridge, England, Plot F, Row 1, Grave 53 (not far from F/O John R. Runnells). The subsequent enquiry into that fateful days events found him wholly responsible and severely criticised his decision to continue with the flight in light of the weather reports available to him. However this case clearly illustrates just how alien an environment the young newly trained US flyers must have found wartime Britain with its unpredictable weather, which could change so quickly and vary so widely from one location to another relatively close destination. Many also found navigation a particular problem as the old standby of following rail lines proved a nightmare due to this countries intricate rail network, plus wartime restrictions on routes, to avoid anti aircraft defences and barrage balloon networks, which made journeys even more complicated.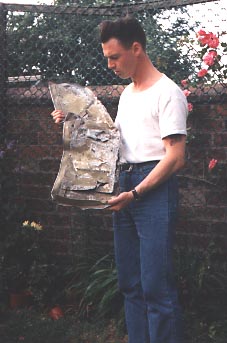 Peice of 42-8621 recovered during a dig on the site several years ago and now in the LAIT collection.
Note: Crash site located and currently under investigation, though little is thought to remain following a previous excavation by a group some years ago who apparently mis-identified the site as that of P-51 44-13593.
---
Acknowledgements:
Russell Brown, Michel Stowe of Accident Reports.
This page & all articles on this site Copyright © Nick Wotherspoon 2001