Gas Balloon - Church, near Accrington

29th September 1824
Last updated 04.12.2018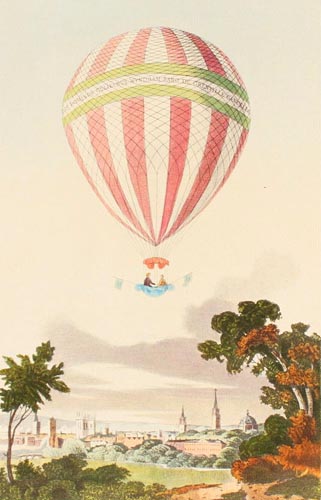 Windham Sadler's balloon was very similar in appearance to his father's later models of gas balloon
| | | |
| --- | --- | --- |
| Name | Position | Status |
| (William) Windham Sadler | Pilot | Died of Inj. |
| James Donnelly | Passenger / Assistant | Inj. |
(William) Windham Sadler was born in London on 17th October 1796, the son of James Sadler (1753 - 1828) the first English Aeronaut (who had made his first ascent on 4 October 1784) and who was also a renowned engineer and chemist, despite having little formal education. He was named after the statesman William Windham, who had been a supporter and sometimes ballooning companion of James Sadler and it was not long before the young Sadler began to follow in his father's footsteps. He made his first balloon ascent with his father in July 1810 and his first solo ascent in September 1813. Windham Sadler studied engineering and chemistry and in 1817 moved to Liverpool in to take up the post of manager with the Liverpool Gas Light Company, which his father had been instrumental in setting up. Here he continued to make balloon ascents and gained a reputation for lecturing in both Oxford and Liverpool on the new science of "aerostation" (ballooning). Also in 1817 came one of his most famous achievements when he succeeded, where his father had previously failed in 1812, when Windham completed the first successful aerial crossing of the Irish Sea from Dublin to Holyhead in five hours.
In 1822 he was ousted from his job at the Liverpool Gas Light Company, despite having helped the company grow significantly, though his now ex-employers still provided the gas for his balloon ascents at no charge. However, his ballooning activities failed to provide the security he now needed for his own growing family, as he had married in 1819. In January 1824 he decided to utilise his knowledge as a chemist and opened his own business - A "Warm, Vapour, Medicated and Other Baths" establishment at the corner of Wood St. and Hannover St Liverpool (Now O'Neill's Irish pub?) - apparently a much needed facility for the city, according to the local press at the time! The premises were noted as being large enough to include residential apartments, which no doubt provided further income. However, the fitting out of this new establishment did not come cheap and it seems he soon looked again to preparing his balloon for the new season in the hope of helping to mitigate some of his recent expenditure.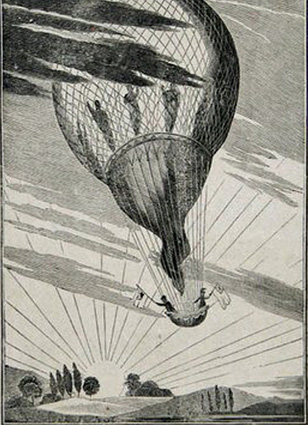 Windham Sadler's balloon as depicted on his ascent over Derby in October 1823

.
During the spring and summer of 1824 Windham Sadler made several ascents over the northwest, starting in Manchester (Salford) in April, where he made the first ascent since his father's highly acclaimed very first ascent from the city in 1785. However, he found that the local "Coal gas" (Wood and Oil based processes were also used, all producing various cocktails of gasses including Hydrogen, Methane and Carbon Monoxide.) that by now provided the most commonly manufactured "Town gas" was relatively poor in its "lighter than air" gas content and required topping up with a supply of specially manufactured hydrogen in order to get his balloon off the ground and even then he had to leave an intended passenger behind! Windham was busy through the summer, making some eight successful ascents, bring his total up to 30, though in financial terms these activities proved far less of a financial success due to the impossibility of stopping spectators watching for free, once the balloon took off. Though it was reported that he did resort to screens around his take-off sites after discovering enterprising owners of buildings nearby were cashing-in by admitting and charging spectators. For these ascents he used a balloon that had already served him well in several previous ascents and was painted to resemble that of his father with alternate crimson and yellow stripes and was some 34 feet in diameter and 42 feet in height. It had been constructed in Liverpool using some 560 yards of silk, which was made gas tight using a rubberised varnish. The passenger car was typically ornate and is usually illustrated featuring two large flags, as in the style of his father and many other early balloonists - it appears that showmanship rather than aeronautics was a predominant factor in its design.
Windham Sadler's 31st and final flight was made on the Wednesday 29th September 1824, having been invited to ascend from Bolton by a wealthy local, who was to accompany him of his flight. At around 14:00 all was ready at the yard of Bolton Gas Works, where the balloon had been filled, but his intended passenger was feeling unwell and decided he could not manage the flight. His place was taken by a Mr James Donnelly - a former employee at the Liverpool Gas Light Company, when under Sadler's management and now described as his "man servant". Weather conditions were far from ideal, being described as "high wind, rain and a dense and cloudy atmosphere, being most unfavourable", but Sadler did not seem unduly concerned and shortly after two-o-clock he began his ascent. The balloon rose quickly and was soon out of sight, heading in a north easterly direction and it was anticipated that its course would take it towards the town of Blackburn.
At first all appeared to be proceeding normally for the occupants of the balloon, though Sadler did seem to be having problems keeping the balloon car below the dense cloud. As the flight continued, he and his passenger drank a customary toast from a bottle of wine that they had on board. But with visibility remaining a problem, after some 15 minutes flight time, Sadler made the decision to try to land. The balloon began to descend over the then village of Church near Accrington. The balloon was spotted by a number of witnesses as it descended rapidly, near the works of Messrs. Simpson, Haigh, and Co. (Calico printers), at Foxhill Bank, Church, some four-miles east of Blackburn, and fourteen miles north of Bolton, where they had taken off. As they got lower, Windham began to prepare for landing - usually the most dangerous phase of any such flight at the time - and he threw out a grappling line, intending to slow the balloon. However, the hook of the line caught almost immediately in a tree and before Sadler could react, the line tautened and jolted the basket violently, resulting in the rope breaking. The balloon car was then carried forward several hundred yards hitting various obstacles and for some of the time dragging along the ground. The occupants were seen to be lying flat on the floor of the car and called out to the spectators to get hold of the trailing broken rope. However none of the spectators were able to do so and the car was next seen to strike the chimney of a dwelling near a small meadow with sufficient force to knock it down and Sadler was pitched completely out of the basket, though his foot became entangled in the cords, which prevented him falling immediately. With his companion unaware of what had become of him, Sadler was left suspended under the basket by one leg as the balloon began to rise again and the battered Sadler fell head first to the ground from a height of about 45 to 60 feet into the small meadow adjacent to the print works of Messrs. Simpson, Haigh, and Co. - this caused the now lightened balloon to rise rapidly and disappear from view.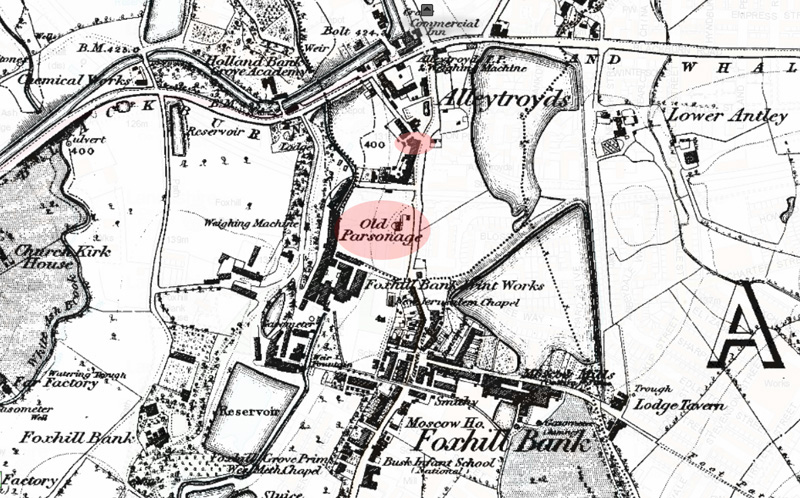 The Alleytroyds /
Foxhill
Bank area of Church, near Accrington circa 1845, with the Old Parsonage, highlighted, still standing in its substantial grounds, although it is beginning to be encroached upon by various print, dye and bleach works. Note: Not far away, the
Greyhound Inn, where the fatally injured Sadler was taken,
is also highlighted, though it is not marked as such on the map and at that time stood at the end of a row of buildings.
Witnesses rushed to the unconscious Sadler's aid and he was carried to a nearby public house - The Greyhound Inn on nearby Market Street, Alleytroyds (which was situated at No. 45 and closed as a public house in the 1960s) where the landlord, a Mr Blenkinsop, rushed to fetch a surgeon and due to his exertions, sadly later suffered a seizure himself and died. The first surgeon to arrive, a Mr James Muir from Accrington, who discovered Sadler had a severely fractured skull, a broken ribs and severe bruising to his body - which he later attributed to him having been thrown against the chimney or a building, rather than the fall. Realising the injured man required specialist attention, a Mr Barlow from Blackburn was summoned, who arrived with a Mr Dugdale and emergency surgery was carried out to release the pressure on the brain, by removing several loose pieces of bone, that had been driven into the brain. Windham Sadler died the following morning at around 8.00am without regaining consciousness. In his possession had been found a letter addressed to his wife, to be sent in the event of an emergency and this was duly despatched. Also found on his person; was his watch, a pocket-compass, and cash to the amount of one pound and in the field where he fell; a telescope, wine bottle and notebook - all of which were taken into the care of Mr David Aitkin, of Foxhill, clerk to Messrs. Simpson, Haigh, and Co. The glasses of his watch and pocket-compass were both noted as being broken.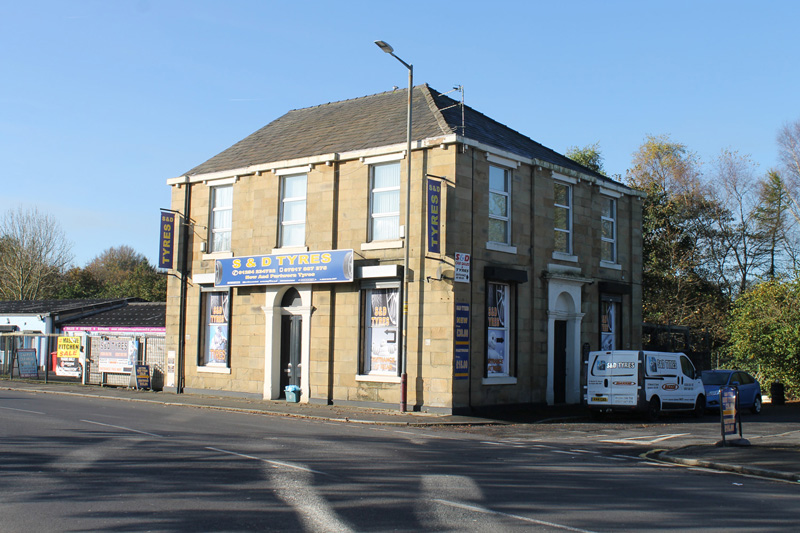 The former Greyhound Inn (probably rebuilt) at 45 Market Street, where the fatally injured Windham Sadler was taken.
Note: Though most later accounts described Sadler's balloon as striking a factory chimney, in 1824 the industrialisation that was soon to transform the area was only in its early stages, though near to the spot where Sadler is reputed to have fallen there was a substantial works occupied by Messrs. Simpson, Haigh, and Co. - described as Calico printers and established in 1790 at Foxhill Bank, Church on the site of an earlier water-powered fulling mill. Also in the area was a dwelling known as the Old Parsonage, owned by the same company and standing in substantial grounds - a small meadow - and it seems likely this was the building he struck and where he fell - as in more than one contemporary account, mentions that the chimney belonged to a "house" or "cottage" rather than a factory or works and that the impact of the balloon basket is stated to have been sufficient to actually have demolished the said chimney! Also the road leading to the field in which the Old Parsonage stood was later named "Sadler Street".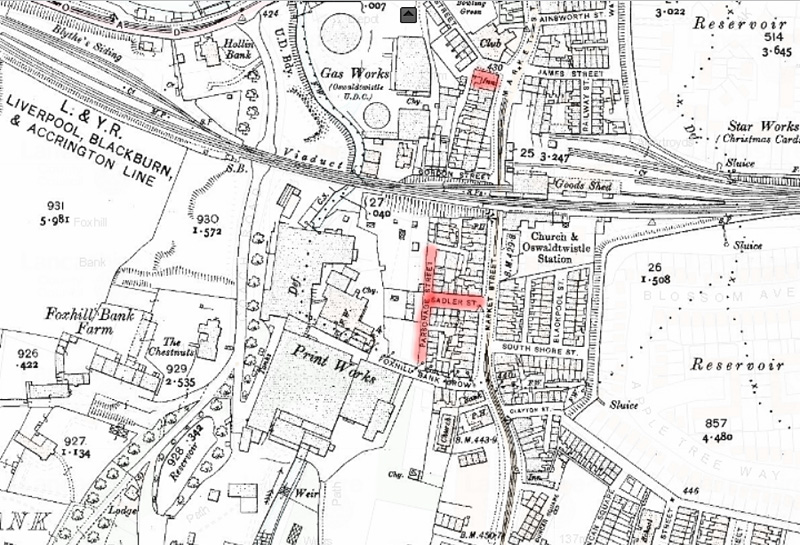 By the 1890s the area had been transformed almost beyond recognition - Sadler Street marks the path of the Old Parsonage's access drive and crossing it is Parsonage Street, as the only reminder of the building itself. The meadow where Sadler is believed to have fallen has by this time covered by housing and industrial works and the Inn where he was taken is now beyond a major railway line and goods yard, with the main Blackburn to Accrington road having also now been diverted around the area.
Meanwhile Sadler's companion on the flight, James Donnelly, found himself the sole occupant of the now rapidly ascending balloon, at first believing Sadler had managed to scramble clear when they had come near the ground - but a shriek of horror from the assembled spectators below had confirmed to him that something much worse had happened to his companion. At first Donnelly simply clung on as best he could, as the balloon rapidly covered a further four miles. Then realising he needed to act if he was to save himself, he operated the valve cord to release some of the gas and began to descend in the vicinity of the village of Whalley. Again the car was dragged along the ground, this time until it caught on some iron railings that formed a boundary between two fields, which turned it upside-down. This tipped out the remaining contents of the car, including Mr Donnelly to the ground and the balloon, once again lightened of its load, shot upwards and disappeared. It seems Donnelly fell some distance, suffering a broken left arm and receiving severe bruising to his head and body. He was carried to an Inn in Whalley, where he received emergency medical attention and later was well enough to be transported to the Eagle and Child Inn in Bolton, where it was pronounced that he was expected to make a full recovery. The balloon meanwhile was spotted once again at around 4:45pm over 100 miles away (showing the strength of the wind on the day) by the crew of his Majesty's Revenue cruiser Lapwing, which was lying to, under storm sails, in a strong gale with a heavy sea, off Flamborough Head. The balloon was observed to make a gradual decent, falling into the sea some two miles from the ship. Captain Fegan ordered the ship to make sail and head for the site, as the seas were too rough to launch their small boat, but by the time they reached the area, though only some five minutes later, the balloon, and they thought any possible occupants, had disappeared beneath the waves.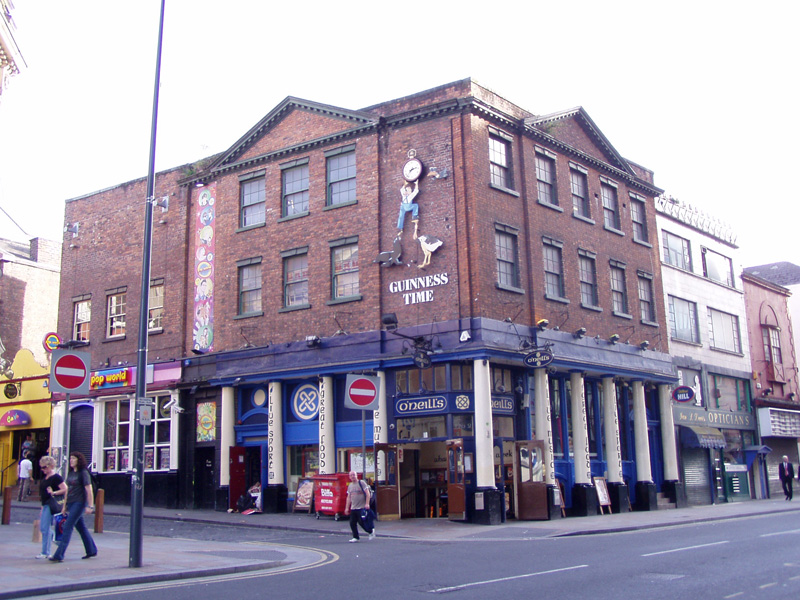 Building on the corner of Wood St. and Hannover St Liverpool, believed to have formerly been Sadler's "Warm, Vapour, Medicated and Other Baths"

establishment opened in 1824. (Photo:

John Bradley

Images

.

"O'Neill's on Hannover Street in Liverpool
"
CC BY-SA 3.0
)
Meanwhile in Liverpool Mrs Catherine Sadler quickly received the pre-prepared letter that had been despatched and on Thursday 30th September, suspecting there had been an accident, she made her way to Blackburn, accompanied by a Mr Armstrong, who had accompanied her husband on several of his recent ascents. When they arrived at the town, Mr Armstrong learned of Windham Sadler's demise and had the unenviable task of preparing the pregnant Mrs Sadler of what awaited them at Alleytroyds, but Mrs Sadler still insisted on viewing her husband's body. On the Friday an inquest was held, with the coroner (John Hargreaves Esq.) concluding that his injuries were received by means of the deceased being struck against a chimney, or some other part of the building. The fall was certainly not considered sufficient to have caused the fatal damage and it was suspected that Sadler's body had struck the chimney at or before the time that the car did. Verdict - Accidental death, by being struck against a chimney. On the Saturday the body was transported back to Liverpool, setting out early in the morning with Mrs Sadler accompanying the hearse much of the way. It passed through Bolton and Wigan, where large crowds turned out to pay their respects along the route. News had also circulated of the financial difficulties the widow was now left in, as all Windham's money had been spent on the recent preparations of his new Medicated Baths business, which was not yet ready for opening. This led to a subscription fund being set up for her benefit, which soon raised the considerable sum for the time of £1000.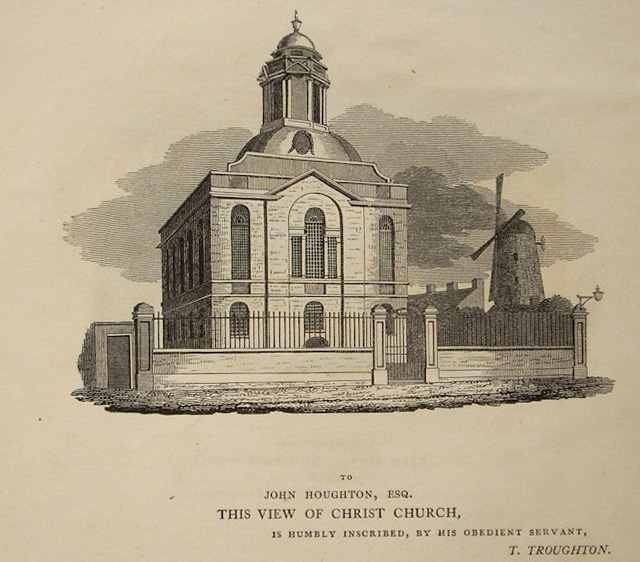 Christ Church, Hunter Street Liverpool, where Windham Sadler was laid to rest, was demolished in the 1920s

Windham Sadler, aged 27, was buried on Monday 4th October 1824 at Christ Church on Hunter Street Liverpool, with upwards of 4000 people attending. Known as "The Temple Church", Christ Church had been consecrated in 1799 and as well has being surrounded by a relatively small burial ground, the church itself was built above a lower vaulted floor, forming a large crypt containing 91 burial vaults that provided its principle cemetery. The church closed in 1920 and appears to have been demolished soon afterwards, leaving the site empty, but with the crypt buried under a mound of rubble and the burials within and those surrounding the outline of where the church had stood, left intact. It wasn't until 1967 that the site was disturbed again - this time under the authority of the Mersey Tunnel (Liverpool/Wallasey) Act 1966, where the site was designated as being required for the construction of the Churchill Way flyovers, part of a new traffic system designed to relieve the congestion caused by the increasing use of the the Queensway Tunnel. However, by this time it was found that the burial records did not actually indicate where specific burials were located and many of the grave markers had long since succumbed to weathering and were indecipherable. Even where inscriptions were legible, it was found the number of sets of remains in family graves often did not match the records, indicating that the surviving gravestones had likely been moved at some time. Overall out of 1,465 assumed burials, 981 sets of remains were removed - most of the vaults in the crypt being found to be empty and those that did contain remains had mostly illegible inscriptions. Where inscriptions were found, they were carefully recorded (though Sadler's was not amongst them) and by June 1967 all the remains had been removed to The Liverpool Crematorium for cremation (Now known as Anfield Cemetery and Crematorium).
| | |
| --- | --- |
| | |
| To the rear of the site of the Old Parsonage and its surrounding meadow, the landscape has changed beyond recognition - gone is virtually all trace of Simpson, Haigh, and Co.'s Calico printing works, as well as later dye and bleach works on the site that were closed in the 1950s and finally cleared in the 1970s. | The drive that once approached the Old Parsonage and its grounds became Sadler Street and Parsonage Street, which were once densely crowded with terraced housing, dominated by the works behind - The houses and works have, in turn, been demolished once gain revealing the fields and trees beyond and the site is now a small light industrial estate. |
Despite his achievements, sadly today there is no memorial to William Windham Sadler, other than the name of a minor side street in a small Lancashire town, which probably means little if anything to passers-by.
---
Sources:
Oxford Dictionary of National Biography: Sadler, (William) Windham (1796 - 1824, balloonist and gas engineer by H.S. Torrens).
The Edinburgh Magazine & Literary Miscellany, Volume 94, October 1824 - On the death of Mr W.W. Sadler the aeronaut.
Davies, Mark - King of All Balloons: The Adventurous Life of James Sadler, The First English Aeronaut. Amberley Publishing. 2015.
The Gentleman's Magazine, Vol. 94 Pt. 2. Vol. 136 - November 1824 - Obituary Mr Wm. Windham Sadler.
London St James Chronicle And General Evening Post (Newspaper), October 2, 1824 - Death of Mr Sadler: Further Particulars.
The Edinburgh Annual Register, Vol. 17, 1824 - Coroner's Inquest on Mr Sadler.
The Kaleidoscope: or, Literary and Scientific Mirror Vol V. No.223 October 5th 1824, pages 116 - 117 &120
This page & all articles on this site Copyright © Nick Wotherspoon 2018