Seafire SX 129, Adlington

12th February 1950
Last updated: 18.11.2010
| | | | | |
| --- | --- | --- | --- | --- |
| Type | Unit | Base | Duty | Crew |
| Seafire F.17 | No 1831 Squadron | RNAS Stretton | Training Flight | 1 |
In the afternoon of the 12th February 1950, Lieutenant (A) Geoffrey Alan Beaumont of No 1831 Squadron Royal Navy Volunteer Reserve was flying one of four Supermarine Seafires that took off from Royal Naval Air Stretton Nr Warrington at 14:00 hours under the command of Lieutenant Commander Richard Ian Gilchrist RNVR. The flight of four Seafires then climbed to 12,000 feet and headed West under control of the fighter Unit at Fazackerley, Liverpool. They encountered thick cloud from 3,000 feet to 12,000 feet and about fifteen into the flight, Lieutenant Commander Gilchrist had entered the main layer of cloud his gyroscopic flying instruments "toppled over", probably as he was flying the aircraft beyond the instrument's limits. Shortly after this, Lieutenant Beaumont was instructed to take over the lead, whilst Gilchrist climbed above the cloud. However, on rejoining the flight Gilchrist stated that Beaumont's aircraft was nowhere to be seen.
| | |
| --- | --- |
| | |
| Lt.(A) G. A. Beaumont | His grave at Appleton Thorn |
| | | |
| --- | --- | --- |
| Name | Position | Status |
| Lt.(A) G. A. Beaumont | Pilot | Killed. |
Lieutenant Beaumont's aircraft had crashed at Adlington Common near Chorley, after apparently exploding in mid air, with wreckage scattered over a wide area and the port wing had severed a power line, cutting of the electricity supply for the immediate district for two hours. The engine and fuselage plunged into a field of soft clay to a depth of over ten feet.
A number of local residents had narrow escapes:
Mr T Ince of Beehive Cottage was half asleep in bed when a part of the aircraft struck the roof of his house causing plaster and debris to fall on his bed, with a hole appearing in the roof and as Mr Ince looked up, he was able to see the Sky.

With the engine buried in land just to the front of her house, No 1 Common End and the wing at the back Miss J Holt also considered that she had a lucky escape.

Mr John Carr heard a loud explosion and rushing out of his house saw the air filled with falling wreckage.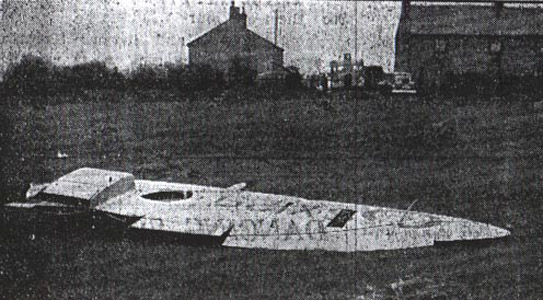 The port wing of SX129 lies close to the Common End cottages
After landing back at Stretton Lieutenant Commander Gilchrist was informed that an aircraft crash had been reported and traveled by car to Adlington with the Instructor and Doctor, once arriving here he was shown the wing of the aircraft, which he was able to identify as SX129 - Beaumont's missing aircraft. Lieutenant Beaumont from New Mill, Holmfirth had previously served for four and a half in the Fleet Air Arm, spending several months on Atlantic air patrols and then as a fighter pilot attached to the aircraft carrier HMS Indefatigable.
His father recalled at the time:
"Geoffrey was mad on flying, it seemed to be in his blood. After he demobilised he wanted to join the service with his old rank, but as he could not do that he joined the Fleet Air Arm Reserve, at weekends he went to Stretton for training flights and had flown long distances, sometimes going up to Scotland and at other times to the South Cost. Many times he had flown over the family farm, during the last twelve months Geoffrey had not missed more than three weekends flying and that was when the station was closed".
His commanding officer told his father that he would probably have been accepted to rejoin the regular service within a few weeks. Lieutenant Beaumont's funeral, with full military honours took place at St Cross Church, Appleton Thorn, near Warrington, Cheshire and was attended by a large number of airmen from Stretton.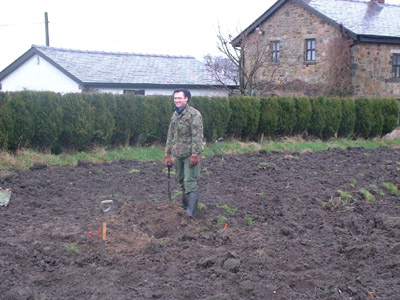 The impact site of SX129's engine & fuselage today - Note proximity of the nearby cottages.
In 2002 LAIT members carried out a survey of the site with the permission of the landowner and by arrangement with the tenant farmer to gain access between crops. Only a few small fragments were found, possibly due to at least two excavations having been carried out in the past and no major contacts were registered by our deep-seeking equipment, quashing rumours that the engine remains buried at the site. The project was still considered a success as we were able to pinpoint the impact site of the engine and fuselage as a radio suppressor from the cockpit and linkage from the carburetor were found - Locals who came to watch were astounded by how close to the cottages the actual impact had been.
---
Acknowledgements:
Mark Gaskell, Russell Brown, Stuart A. Clewlow.
This page & all articles on this site Copyright © Nick Wotherspoon 2010