Spitfire JK940 - Blackburn

23rd December 1944
Last Updated 16.11.2010
| | | | | | |
| --- | --- | --- | --- | --- | --- |
| Type | Unit | Base | Duty | Crew | Passengers |
| Spitfire Vb | 17 S.F.T.S. | ? | ferry flight | 1 | - |
This incident which has proved frustratingly difficult to track down a location for, is coincidentally the only aircraft loss to have taken place within the boundaries of my former home town, Blackburn, Lancashire during WW2. Although problems were expected in obtaining the Form 1180 crash record card, as most of the Spitfire Mk V cards for the North West have been missing for some years, this one surprisingly proved to still be in the records.
The aircraft involved was a Mk Vb Spitfire Serial No. JK940, which had been delivered to the RAF 24th June 1943 and was unusual in that on the 31st August that year it went on to Research and Development, Farnborough for the fitting of an experimental tow hook. In March the following year it went on to De havilland, presumably for further development work, before passing to No. 9 Maintenance Unit (MU) on 26th August 1944. Following further trails at RAF Biggin Hill of the now named "Hasty Hitch" tow hook, towing Hotspur assault gliders, JK940 eventually ended up with No. 17 Service Flying Training School (S.F.T.S.) in October 1944.
| | | |
| --- | --- | --- |
| Name | Position | Status |
| F/O J. W. Bell | Pilot | Slight Inj. |
On the afternoon of the 23rd December 1944 was on a ferry flight over Lancashire, being flown by 17 S.F.T.S. pilot F/O J.W. Bell, an fairly experienced pilot having accumulated some 966 solo flying hours, 22 of them on Spitfires. Weather conditions were far from ideal and the ground was completely obscured by fog, with visibility down to only 200 yards. By approx. 15:00 hrs the pilot realised that he was lost and running low on fuel and attempted to call up "DARKIE" in order to get a fix on his position. But JK940 was apparently not the only aircraft lost over Lancashire that foggy afternoon and Bell was unable to make out the reply due to strong radio interference from one of the two big American bases in the North West, who were also trying to guide planes in to land. At 15:45 hrs approx. Bell's fuel situation became critical and with JK940's engine losing power due to fuel starvation, he elected to abandon his aircraft and made a successful parachute descent, landing in Blackburn's Corporation Park and sustaining slight injuries, believed to be a sprained ankle. Without power JK940 also began a much more rapid descent, barely clearing a prominent ridge to the North of the town, the aircraft came down at a steep angle almost parallel with the slope of the far side of the ridge. Miraculously the aircraft narrowly missed several houses, before impacting on wasteland close to a residential area. Following the crash the area was immediately sealed off and security was unusually tight, perhaps due to the unusual modifications to this aircraft. Few people were able to get close enough to actually see the wreck and local censorship, which had become more relaxed by this time, was now strictly enforced.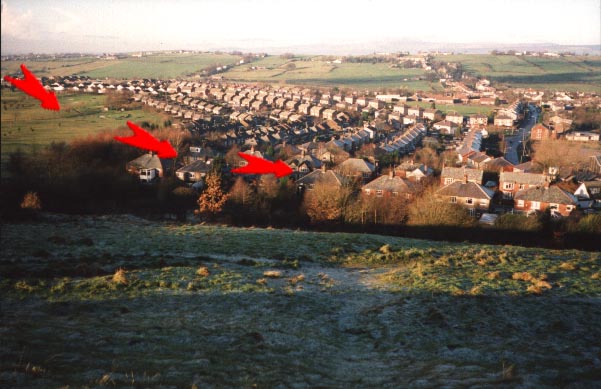 Approximate path of Spitfire JK940
As already mentioned our initial research into this incident proved somewhat frustrating. The few witnesses located knew there had been an incident, but were unaware that a plane had even been involved! Local ARP & Police records were available, but made no mention at all, although the former actually reported on two V-1 rockets exploding locally the following night in considerable detail! Our break came after resorting to door to door enquiries in the assumed area of the crash, again this was complicated by a misspelling of the name of the road involved on the Form 1180, giving us at least three possible areas to cover. However luck was with us and starting with the most likely location, we soon found a witness who recalled the aircraft narrowly missing her and her neighbour's houses before impacting on an area of rough ground just beyond. She also recalled the strict security and being escorted to her home, only seeing a glimpse of the wreck over a hedge. This witness also remembered the pilot coming down in the park and hurting his ankle and even recalled the exact date and time of the incident unprompted! However little is thought to remain at the site, as the recovery was thorough and area has now been built over.
---
Acknowledgements:
RAF Form 1180, Mrs Thompson.
This page & all articles on this site Copyright © Nick Wotherspoon 2000