Spitfire XIV RN210 - Freckleton

8th May 1948
Last updated: 16.11.2010
| | |
| --- | --- |
| F/O R.H.P. Griffiths in 1940 | His grave at St Peter's Formby |
Although our activities are largely confined to research, we do like to get out now and again and get our hands dirty on a "dig"! With this in mind half a dozen like minded individuals gathered on a bleak, wind (and occasionally rain) swept marsh near Freckleton, Lancs. in November 1996 for our group's inaugural dig. All were hoping that the readings from the borrowed Fisher two-box detector did indeed indicate that substantial remains of Spitfire RN 210 lay beneath our feet, although the sceptics among us cited previous group's fruitless investigations of this site.
Built by Vickers Armstrong at Keevil, RN 210 was accepted by the RAF at 39 MU on 22nd February 1945 and initially was allocated to 41 Squadron, which was carrying out daily armed reconnaissance sorties and was based at Eindhoven. The aircraft's combat career with this Squadron was somewhat brief, on the 25th April RN 210 was involved in an incident whilst on operational flying which resulted in it being classified category AC. This resulted in the aircraft being returned to 409 Repair and Servicing Unit, from where it went on to Air Service Training duties by the end of May 1945. On the 23 August 1947 RN 210 was allocated to 611 "West Lancashire" Squadron, which had been reformed in May 1946 as an auxiliary unit and was now based at RAF Woodvale, Lancs.
On of Saturday 8 May 1948, 27 year old Flying Officer Robert Hugh Price Griffiths reported to RAF Woodvale for flying duties with 611 Squadron, as he did most weekends. Griffiths, from Crosby, Liverpool had originally volunteered for service with the RAF on 18.September 1939, beginning his RAF career with 26 Squadron in 1940. He went on to Air Gunner duties with 239 and 151 Squadrons, before being selected for pilot training in 1942, which he underwent in Canada and the United States. However all did not quite go according to plan for him, as on completion of his training he was allocated to instructional duties rather than the "front-line" squadron he had hoped for. He resigned his commission as Pilot Officer in the RAF in late 1943 and early in 1944 he took up a commission as Sub/Lieutenant in the Air Branch of the RNVR and served on the Assault Escort Carrier HMS Ameer in the Indian Ocean, where it is likely he saw his fair share of the "action" he craved.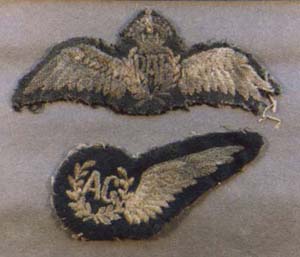 Griffiths' Wings recovered by LAIT
Following the war Griffiths apparently found civilian life somewhat lacking in excitement, despite a powerful motorcycle and occasionally flying a small passenger aircraft for his employers. In November 1947 he applied to join 611 Auxiliary Squadron and was accepted in December and granted a commission as Flying Officer. It was just before 3.00 PM on a grey Saturday afternoon in 1948 that two Spitfires took off from Woodvale on a practice high altitude climb. F/O Griffiths' wingman for this exercise was Sergeant John James (Doc) Morgan and some 35 minutes later the two aircraft were at 21,000 feet above the Ribble estuary. At this point Sgt. Morgan asked F/O Griffiths over the radio whether he intended to climb higher and Griffiths replied that he was checking his oxygen equipment, but did not indicate that there was a problem. A few minutes later Sgt. Morgan observed that F/O Griffiths' aircraft was rolling from side to side, but further attempts at radio communication could raise no reply. Shortly after this RN 210 went into a spin and began a steep dive. Sgt. Morgan attempted to follow, still vainly trying to establish radio contact, but he was forced to pull out before his own altitude became dangerously low and through the low cloud he observed F/O Griffiths' aircraft - RN 210 - impact into a field near Freckleton and explode.Those first on the scene realised immediately that the unfortunate pilot was beyond their help and servicemen from nearby Warton airfield were soon on the scene and sealed off the area. Flying Officer Griffiths' remains were recovered during a strenuous 24 hour recovery operation involving up to 30 servicemen and following formal identification he was buried with full military honours at St. Peter's church, Formby, close to Woodvale airfield. His home was at Clayton Avenue, Culceth near Warrington and he left a widow and young daughter.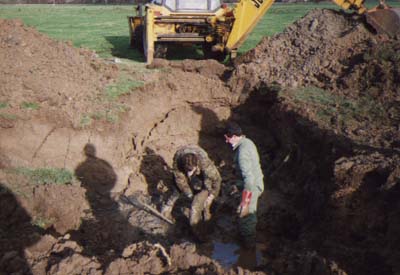 A mainwheel tyre is retrieved
As the excavation of RN 210 got underway on another grey Saturday morning nearly 50 years later, it rapidly became apparent why such a large number of servicemen were required during the initial recovery attempt. The first trail trench across the identified crater hit running sand within three feet and not the six to ten foot depth predicted by local farmers! Following a quick consultation it was decided to continue using a JCB and forgo the usual initial hand dig, whilst hoping that our trust in the Fisher would be vindicated. Fortunately a relative of the landowner possessed such a machine and was itching to get involved, he was at the site within an hour. Progress was rapid and soon the main generator had been recovered together with a shredded and burnt main wheel tyre. We now had a pit some ten feet square and five to six feet deep, with the main mass of wreckage as lying in the bottom under some 18 inches of running sand and water. Following the removal of the second main wheel tyre, this time basically intact, it was decided that the hole was becoming too dangerous to enter. Consultation with the JCB driver resulted in a mutual agreement that he would systematically "trawl" the excavation, scoop the wreckage out and deposit it well clear of the hole for sorting. This method proved less haphazard than it sounds and the quantity and range of artifacts recovered proves it's success - all five propeller blade hubs, both accumulator bottles, both main undercarriage legs, two oxygen bottles etc.
Most items were recovered from the area predicted by the Fisher, but mid-afternoon we were surprised to recover a fairly intact Hispano 20mm cannon and a .50 caliber Browning machine gun whilst digging a drainage sump to one side of the main excavation. Naturally we immediately switched the JCB to the opposite side of the crater but no such luck! The guns were slotted vertically into the ground, graphically demonstrating the angle and force of impact following RN 210's final dive. Finally at approximately ten feet in depth the JCB shuddered as a large object was encountered - the Rolls Royce Griffon 65 engine -but as the driver struggled to get a purchase, the object began to sink! Luck was with us again as the machine had an "extradig" telescopic arm and at approximately 15 feet in depth we finally seemed to be winning as the shattered remains of the engine were lifted from the "soup" now filling the seemingly enormous crater.
| | |
| --- | --- |
| An Undercarriage leg is carried clear | RN210's shattered Griffon engine |
The following day was spent "finger-tip" searching the spoil heaps prior to back filling the hole - with the assistance of several very enthusiastic (and muddy) local youths, revealing a wealth of smaller items otherwise invisible in the liquid mud. With the field reinstated and the three tons approx. of wreckage removed to safe keeping, so began the mammoth task of sorting and cleaning familiar to all those involved in our hobby! Many components were in amazing condition, such as the tailwheel and oleo assembly which was retrieved intact and pressurized with a fully inflated tyre and which rotated freely on it's bearings. But many parts were affected by the intense if brief fire that followed the impact and exhibited varying levels of corrosion, the worst naturally being on those items found closest to the surface.
Sad reminders of the tragic fate of F/O Griffiths also came to light, including an intact silk parachute canopy, its pack, seat and back pads. Saddest of all was his wallet containing a driving license, personal papers and a lock of child's hair - his daughter had been only three years old when he was killed. These latter items were carefully cleaned and conserved before being sent back to the RAF, who after experiencing difficulty in tracing the pilots next of kin gave our group permission to attempt to contact the family regarding these items. An appeal on Channel 4s "Service Pals" teletext pages brought us into contact with a former school friend of the pilot who recalled Griffiths' widow returning to her hometown in Scotland following the accident. Several weeks after placing letters in a number of newspapers in that locality and contacting local family history societies etc. we had almost given up, when late one evening the lady herself made a telephone call after having one of the letters brought to her attention by a friend.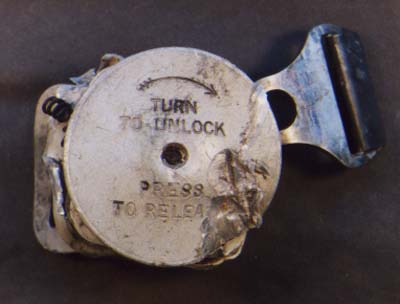 Always a sad find - parachute release
All in all our inaugural dig proved to be a most successful project, both as an actual excavation and as a research project. Though as with many such investigations it has led to other avenues for research and we are presently investigating the fate of F/O R.H.P. Griffiths' brother - F/O W.P. Griffiths AFC who lost his life on 5th December 1944 in Dakota FL588 of 24 Squadron. In the meantime parts of RN 210 have formed the basis for well received temporary displays at a couple of local libraries and are due to go on display at the Lancashire County Museum in Preston shortly. The display will cover the story of both the pilot and the aircraft and will include R.H.P. Griffiths personal effects, by kind permission of his widow, which we hope will create a more personal memorial to an enthusiastic young flyer who clearly lived his short life to the full.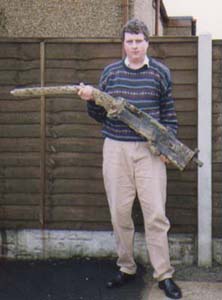 .50 cal. from RN210
---
Acknowledgements:
RAF forms 1180 & 78, Mrs M Brewster, Bill Laycock, Hugh Dollin, Russell Brown.
This page & all articles on this site Copyright © Nick Wotherspoon 1999