Stirling N3640 - Barbon, near Kirkby Lonsdale
29th September 1940
Last updated: 28.06.2018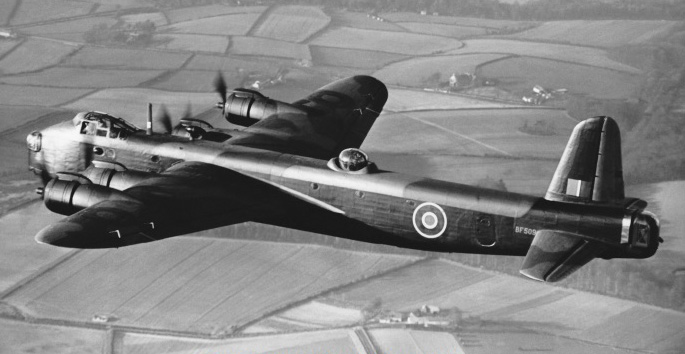 Short Stirling Mk.1


| | | | | | |
| --- | --- | --- | --- | --- | --- |
| Type | Serial | Unit | Base | Duty | Crew |
| Stirling Mk. 1 | N3640 | No. 7 Squadron | RAF Leeming | Cross country practice flight | 7 |
The aircraft involved was a Short Stirling Mk.1, ordered under contract 763825/38 and assembled by Short Bros Ltd at Rochester. Taken on charge by No.7 Squadron on 3rd August 1940, it was first of its type to enter squadron service and also the type's first operational loss. It was declared 'Category W' [write-off] following a flying accident on 29th September 1940, with Bristol Hercules II engine No.'s 126180, 127552, 127546 & 127608 also declared 'Category W'. The cause given for its loss was engine failure, during a cross-country flight from RAF Leeming to assess fuel consumption, which resulted in the aircraft force landing with the undercarriage retracted. After touching down the aircraft ran through a stone wall and came to rest in the next field, with the crew sustaining minor injuries. There has been some confusion over this loss, after one

source (W.R. Chorley RAF Bomber Command losses, Vol.1)
suggested that the engine failure was the result of "friendly fire" when an anti-aircraft battery on the Isle of Man opened fire on the Stirling, damaging two engines - unfortunately this version of events then went on to

be repeated, apperently unchecked, in several subsequent written works. However, there does not appear to be any primary source material to suport this version of events and it is not mentioned, either in the Squadron's records (ORB) or the loss record card (Form 1180), so can be confidently discounted and is only mentioned here for clarification.
| | | | |
| --- | --- | --- | --- |
| Name | Age | Position | Fate |
| Flying Officer Terence Patrick Armstrong Bradley (DFC) | 23 | Pilot | I. |
| Sergeant R. Jackson | | | I. |
| Sergeant A.A. Griffin | | | I. |
| Pilot Officer J.W. Murray | | | I. |
| Sergeant A.C. Nicholson | | | I. |
| Sergeant E.L. Roberts | | | I. |
| Aircraftman 2nd Class J.F. Woods | | | I. |
The wall that the aircraft collided with was in fact not just a field boundary, but actaully a substantial retaining wall, reinforcing an apparent ancient riverbank and meaning that there is a significant height difference of several feet between the two fields. When the aircraft came through this it would have dropped quite suddenly and eyewitness reports suggest this broke the aircraft's back and brought it to a sudden halt. The wall was later repaired by army engineers using a concrete consolidation layer which means the repaired section is still clearly visible to this day.
| | |
| --- | --- |
| | |
| The wall demolished by the Stirling as it slid across the fields - repaired section is clearly visible due to repair work utilising concrete to stabilise the new section of wall. | Lower field in which Stirling N3640 came to rest - numerous broken .303 cases and bullets were found in the area between the two figures, indicating that a turret was probably badly damaged. |
Our survey of the crash site was carried out with the permission of the landowner and we soon found that the ground was very hard and stony, with relatively little topsoil, particulalrly in the upper field where the aircraft first touched down. This meant that very few fragments from the aircraft had peneterated the ground in this field, making it quite difficult to follow its path. The few finds did however, appear to indicate a path from the top left hand corner (standing with the damaged wall to our backs) and perhaps even to another field beyond. The aircarft then seems to have stopped abruptly after coming through the wall with fragments being surprisingly localised and with badly corroded and broken .303 ammunition being the most frequent find. All finds were logged and GPS coordinades recorded, with any viable ammunition being suitably disposed of.

| | |
| --- | --- |
| | |
| Vacuum Pump maker's plate, pipe clamps and pipe and control rod fittings, most with SB (Short Bros.) maker's marks, with a toggle from a Type 5C/543 panel switch to the centre | Map of crash site, showing find distribution of artefats associated with the aircraft. |
Additional Information:
Sergeant A.A. Griffin had been injured in the crash of Armstrong Whitworth Whitley K8984 in eastern France on 27th October 1939 whilst serving as an Air Gunner with No. 51 Squadron. He was also apperently more seriously injured in the crash of Stirling N3640 than records indicate, with a relative stating that he recieved a broken leg, with a compound fracture and was taken off front line duties. This injury later led to complications ultimately resulting in amputation.
Flying Officer Bradley was killed on the 10th April 1945 while serving with No.27 Squadron, having been promoted to the rank of Wing Commander.
---
Acknowledgements:


John Barnes, Mark Sheldon, Dave Parkin, Gareth Brown
References:


1 – Air Ministry Form 1180 – Flying Accident Card for Stirling N3640 on 29th September 1940 (RAF Museum)
2 – Operations Record Book for No.7 Squadron (The National Archives – File Ref:AIR 27/98/1)
3 – The Stirling File (Revised Edition), by B. Gomersall (Air Britain - ISBN 0-85130-152-5)
4 – Royal Air Force Bomber Command Losses Vol.1, by W. Chorley (Ian Allen Ltd - ISBN 9781906537401)
5
–
RAF Commands.Com forum - Thread title: Stirling shot down 18 August 1940 (archived 2012)

This page & all articles on this site Copyright © Nick Wotherspoon 2018