Vampire VZ114 - Ellerbeck Colliery, Adlington

29th August 1949
Last updated 12.03.2011

de Havilland Vampire FB5
| | | | | | | |
| --- | --- | --- | --- | --- | --- | --- |
| Type | Serial No | Unit | Station | Duty | Crew | Passengers |
| de Havilland Vampire FB5 | VZ114 | No. 6 Ferry Pilot Pool | Samlesbury | Delivery Flight | 1 | 0 |
On Monday the 29th August 1949 Flying Officer Richard Harry Clymo made a normal take off from the English Electric airfield at Samlesbury in de Havilland Vampire FB5 VZ114 at 12:07 hours on a routine delivery flight to RAF Lyneham in Wiltshire. Five minutes later the aircraft was seen to emerge out of low cloud at about 500-800 feet in a steep dive and crash into a disused part of a gravel pit near to the colliery site at Ellerbeck about 11 miles South of the airfield at Samlesbury. The aircraft exploded on impact and Flying Officer Clymo was killed instantly. Fire Brigade units from Wigan and Chorley and the Chorley ambulance service were quickly on the scene and the police were there in force to keep back the many residents and workers who had gathered round. A part of the flaming wing was flung into the shaft of a nearby pumping station of the colliery and a fireman had to be lowered part way down the shaft to retrieve the twisted wreckage. The wreckage of the aircraft was strewn over an area 130 yards by 80 yards and much of it was burning. It appeared that Flying Officer Clymo was trying to make an emergency forced landing when the crash occurred. It was believed that when he realised his aircraft was going to crash, Flying Officer Clymo jumped clear, but he was not high enough for his parachute to deploy - an unopened parachute was found alongside his body.
| | |
| --- | --- |
| | |
| Main wreckage of VZ114 | Wreckage being removed from pumping shaft |
Vampire FB5 VZ114 was built by English Electric at Samlesbury under contract 2467, being completed on the 18th August 1949. The aircraft was then issued to No 33 Maintenance Unit on the 29th August 1949, the same day as its fatal accident, the aircraft was then struck of charge on the 26th January 1950.
At the inquest into the death of Flying Officer Clymo held at Chorley on the 31st August 1949, the Deputy Coroner, Mr H R Blackhurst ruled that Flying Officer Clymo had died of multiple injuries received in a aeroplane crash, the verdict being one of misadventure.
A number of eyewitnesses were present at the inquest and some of their statements follow, Mr Thomas Walkden stated: "That about 12:15 hours on Monday I was in a field on my farm adjoining Wigan Lane, immediately opposite Duxbury colliery which was about 200 yards away when I saw a jet plane flying low below the clouds in the direction of Coppull. The aircraft seemed to be in flames from end to end and coming at an inclination of 45 degrees, turning sharply to the left it crashed near to the pit head, I saw something drop but could not see what it was. I ran to the spot but was unable to do anything of the heat and smoke".
Mr John Derbyshire stated: "I was in the living room at home when I heard the sound of a jet plane. It was coming straight for the house from the direction of Chorley and appeared to be diving, I ran to the window and saw it was a single seater plane and that it was not in nosedive but at a definite angle. It just missed my house going towards a clump of trees where it crashed 250 yards away, I ran to the back door but the pane had landed with a loud thud, the aircraft appeared not to be on fire just before it crashed. As I began to run to the crash I saw black smoke rise from the trees and almost at once flames came from the surrounding grass, as I arrived at the scene I found parts of the plane scattered over a wide area".
Mr Arthur Talbot stated: "I was on duty at the airfield that day at 11:40 hours on Monday 29th August 1949, assisting pilots with their equipment etc. After being strapped in and wearing his parachute the canopy cover was closed. Flying Officer Clymo looked down, the all clear was given and the take of was quite good and normal, there was no circling".
The official investigation into the crash by the Accidents Investigation Branch – Ministry of Civil aviation revealed the following: "Examination of the wreckage revealed no evidence of pre-crash structural failure or fire in the air. The engine had been examined but this did not reveal any pre crash defect or failure. The cause of the accident remained obscure, but examination of the wreckage did not reveal any evidence, defect or a failure to which the accident could be attributed". It later emerged that the aircraft's radio had been defective on take off, and one theory is that Flying Officer Clymo tried to regain ground contact by diving through cloud and was unable to pull out of the dive in time.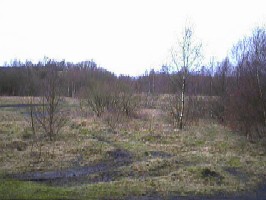 Crash site of VZ114, Spring 2002
Mr Geoff Fairclough recently recalled his memories of the event: "Just after my twentieth birthday I was at RAF Kirkham, which was an armoury Apprentice School, doing my national service when we were called up for crash call. We were taken to the unknown wilds of Chorley, namely Duxbury, it was a heck of a mess, the aircraft was scattered all over the place, we were told not to touch anything as we were there to secure the site for the investigation team to pick up the pieces, I remember a couple of the cannon going missing and they turned up a few days latter, some farmers children had found them and were playing with them".
A local man also recalled his memories of the event: "I remember going to look at the crash site the day after the accident as a young teenager, we had walked along Wigan Lane towards Wigan, past the wood yard to some wooden gates on the right, we went through the gates and only got 100 yards before we were confronted by police and RAF personnel".
Flying Officer Richard Harry Clymo
His grave at

IIIogan Cemetery, Redruth
Mr and Mrs Clymo of Treverbyn, Barncoose, Redruth had received the news the same day by telegram that their only son had lost his life in an air crash. News of the tradgedy evoked widespread expressions of condolence in the Redruth and Illogan districts where Flying Officer Clymo was well known and held in great esteem. Born at Malvern Terrace, Illogan Highway he first attended Barncoose Infants and Junior Boys Schools, where he showed much promise of a successful career. From 1937 to 1944 he was a pupil at Redruth County Grammar School, where he became one of the schools squadron of the Air Training Corps, holding the rank of Flight Sergeant. Mr F W Weatherill, the headmaster and commanding officer of the ATC, formed a high opinion of his capabilities in aeronautics, and gave him every encouragement in his great ambition to make service in the RAF his career. During the war years Flying Officer Clymo volunteered for various duties, including that of head ARP messenger at Redruth Control Centre.
| | | | | | |
| --- | --- | --- | --- | --- | --- |
| Position | Rank | Name | Service No | Age | Status |
| Pilot | Flying Officer | Richard Harry Clymo | 58127 | 23 | Killed |
In 1944 he went to Edinburgh University and in the following year to RAF Cranwell, remaining there until 1946 when he was commissioned into the RAF and began, what showed every promise of being a brilliant service future. Flying Officer Clymo had been stationed at RAF Aston Down in Gloucestershire and had been home on leave to return on the 21st August 1949, he had been due to take his qualifying examination for promotion to Flight Lieutenant and it was said in tribute to him that "he had a love of flying in his blood".
The funeral of Flying Officer Clymo who was an old boy of Illogan Highway Methodist Sunday School, took place at Illogan Cemetery, Redruth on the afternoon of Saturday the 3rd September 1949 - At the time of his death, he had been engaged to be married and much sympathy had been tendered to his parents and fiancée.
---
Acknowledgements: Mark Gaskell
This page & all articles on this site Copyright © Mark Gaskell & Nick Wotherspoon 2011