Wellington BK347 - Whernside

21st April 1944
Last updated: 15.11.2010
| | | | | | |
| --- | --- | --- | --- | --- | --- |
| Type | Unit | Base | Duty | Crew | Passengers |
| Wellington Mk.X | 30 OTU | Hixon | Cross-country Navex | 7 | - |
Deteriorating weather conditions were again to prove fatal for the crew of Wellington BK347 on what should have been a routine Cross-country Navigational exercise which started with the aircraft taking off from No. 30 Operational Training Unit's base at RAF Hixon in Staffordshire on the afternoon of 21st April 1944. With dense cloud prevalent throughout the flight, the inexperienced navigator vainly struggled to establish the exact position of the aircraft and keep them on course. Eventually it was decided to descend below the cloud-base in order to obtain a fix on their position, but unknown to the crew, they were by now some 150 miles off-course and over the high ground of Yorkshire. At 1615 hours, whilst descending through cloud, the aircraft struck the moorland on the Eastern Face of Whernside, killing all but one member of the crew – the tail gunner.
| | | |
| --- | --- | --- |
| Name | Position | Status |
| F/O E.M. Barrett | Pilot | K. |
| Flt. Lt. E. Alderson | Co-pilot | K. |
| Sgt. P.E. Lomas | Navigator | K. |
| P/O R.G.C. Brodie | Bomb aimer | K. |
| Sgt. R.C. Holmwood | Wireless operator | K. |
| Sgt. N. Skirrow | Wireless operator/Air gunner | K. |
| Sgt. J. Marks | Air gunner | I. |
The site today is one of the more frequently visited in the North West, possibly as it is easily visible from the well trodden path running along the ridge of Whernside. Over the years much of the wreckage left on site & buried by the recovery crew has been uncovered and removed and only a few scraps remain together with the two exhaust collector/front engine cowling rings. However even these latter bulky items seem to have attracted someone's attention, as on our last visit one of them had been dragged much of the way up towards the summit ridge path, presumably with the intention of then carrying it down to the road on the opposite side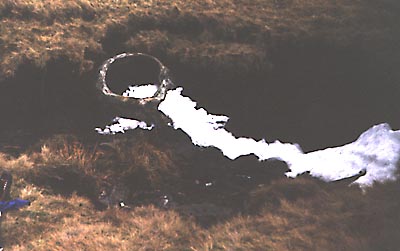 Exhaust collector/front engine cowling & smaller pieces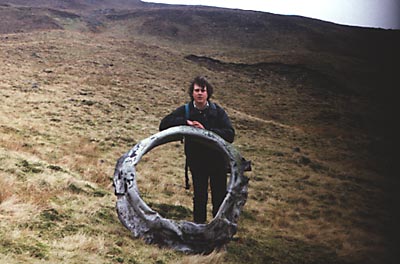 Second collector ring now half way up the slope
Note: Today it appears that the mysterious gradual movement of the collector rings continued and they are both now missing from the site and who took them or their current whereabouts are unknown, leaving only a few small scattered fragments remaining.
---
Acknowledgements:
David W. Earl (Hell on High Ground), RAF Form 1180.
This page & all articles on this site Copyright © Nick Wotherspoon 2000