Wellington HE226 - Conistone

28th May 1945
Last updated 15.11.2010
| | | | | | |
| --- | --- | --- | --- | --- | --- |
| Type | Unit | Base | Duty | Crew | Passengers |
| Wellington Mk.X | 17 OTU | Silverstone | Cross-country Navex | 5 | - |
On 28th May 1945 this aircraft took off from No. 17 Operational Training Unit's base at RAF Silverstone. It is believed that during a cross-country navigation exercise the crew of HE226 missed their turning point in persistent cloud, which had shrouded their aircraft for most of the flight. They were left with little option but to carry out a controlled descent below the cloud in order to try to obtain a fix on their location. With the cloud base at only 2000 feet and unknown to the crew, high ground at 1400 feet below them, the Wellington broke cloud with little room for manoeuvre at best, but with the cliffs at Gill House in front of them, their fate was sealed. From the position of wreckage at the site it appears that the pilot tried his best to avoid the cliffs but at least part of one wing made contact. The aircraft continued to remain airborne for only a couple of hundred yards before impacting on the thinly grass-covered limestone pavement below, killing all those on board instantly.
| | | |
| --- | --- | --- |
| Name | Position | Status |
| W/O E.C Cole | Pilot | K. |
| Sgt. J. Mann | Navigator | K. |
| Sgt. A.J. Griffiths | Bomb aimer | K. |
| Sgt. J. Duncan | Air gunner | K. |
| Sgt. H.H. Rawnsley | Air gunner | K. |
The nature of the remaining wreckage at this site bears silent witness to the terrible force of the impact on the rocky moor and both engines are present, albeit completely shattered. Much of the debris were buried in pits on site, but have been uncovered by enthusiasts over the years and no doubt much has been removed. It is known that the "car-boot" dealer mentioned in a previous article on this site has visited and removed some of the engine parts which were later offered for sale – no doubt if he is successful in this venture he will return….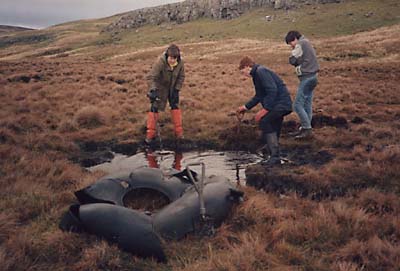 Mainwheel tyre - Cliffs at Gill House in the background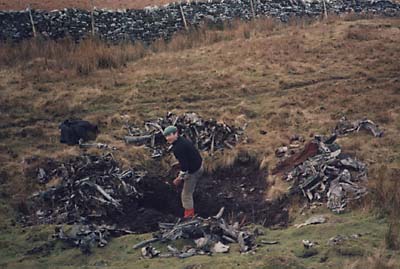 Pennine Aviation Museum investigating one of the pits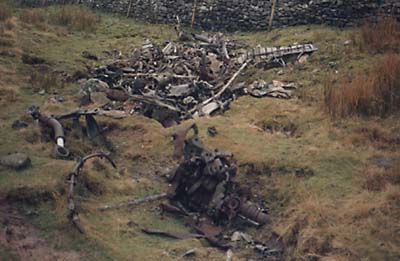 Shattered engine lies in the foregound of main impact point
---
Acknowledgements:
Brian Lunn (Aircraft Down II), RAF Form 1180.
This page & all articles on this site Copyright © Nick Wotherspoon 2000