Wellington Z8808 - Pateley Bridge

2nd/3rd September 1942
Last updated: 15.11.2010
| | | | | | |
| --- | --- | --- | --- | --- | --- |
| Type | Unit | Base | Duty | Crew | Passengers |
| Wellington MkI C | 11 OTU | Steeple Morden | Night Cross-country Navex | 7 | - |
On the night of the 2nd/3rd September 1942 two Wellington aircraft from No.11 Operational Training Unit were on a night cross-country navigation exercise when they were overtaken by deteriorating weather conditions and found themselves flying over the high ground of the Pennines. The first DV718 hit Blake hill near Conistone just after midnight, exploding and killing four of the crew, leaving only one badly injured survivor. The pilot of Z8808 was more fortunate as although he too struggled to control his aircraft in heavy rain and strong winds, he managed to make a crash landing on a relatively flat area of remote moorland. Fortunately there was no fire and all the crew survived although all were injured and the 19 year old rear gunner managed to reach a local farm to summon help.
| | | |
| --- | --- | --- |
| Name | Position | Status |
| Flt. Lt. P.R. Coney | Pilot | I. |
| Sgt. J.Wilding | Co-pilot | I. |
| Sgt. M.B. Grainger | Observer | I. |
| Sgt. J.H.F. Kemp | Bomb aimer | I. |
| Flt.Sgt. J.E. Burrel | Wireless operator | I. |
| Sgt. W.G. Reader | Air gunner | I. |
| Sgt. G.W. Wilford | Wireless operator/Air gunner | I. |
The moors above Pateley Bridge where Z8808 came down are indeed remote and bleak, not to mention extremely soggy underfoot, even in good weather, with many hidden water-filled holes and channels to trap unwary walkers. This probably explains why so much of the aircraft remains at the site to this day, although the remains appear to have been stripped of salvageable components before being cut into pieces and buried in two large pits. The engines also appear to have been salvaged at the time, which must have been quite a feat and most of what is now visible has either been revealed through erosion or dragged from the large water filled pits by visitors to the site.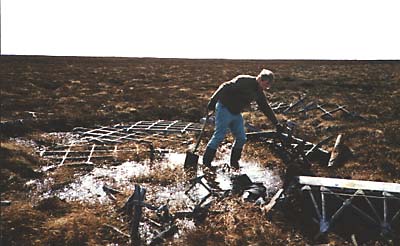 One of the pits where cut-up sections were buried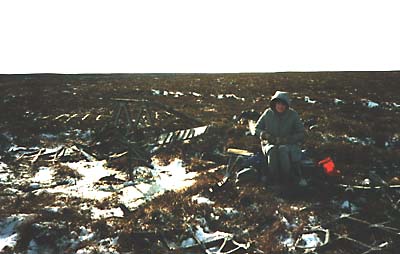 Sections of wing-root & tail fuselage - It was Cold!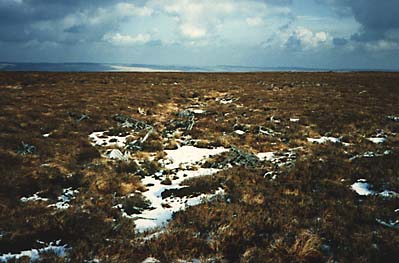 Looking back down the trail of wreckage
---
Acknowledgements:
David Stansfield, Brian Lunn (Aircraft Down II), David W. Earl (Hell on High Ground 2), RAF Form 1180.
This page & all articles on this site Copyright © Nick Wotherspoon 2000