B-24H 42-7468 Bold, St Helens

30th August 1943
Updated 01.11.2010
| | | | | | |
| --- | --- | --- | --- | --- | --- |
| Type | Unit | Base | Duty | Crew | Passengers |
| B-24H | 8th AFBC, 392nd Bomb Group | Wendling, Norfolk (returning from BAD1, Burtonwood) | Ferry Flight | 6 | 3 |
On the 30th August 1943 B-24H Liberator 42-7468 departed Burtonwood at 17.00 hours on a return to base ferry flight, the aircraft was headed for the 392nd Bomb Group airfield at Wendling, Norfolk onboard were nine personnel including three passengers who boarded the aircraft just prior to it departing.
The aircraft which had just recently returned from a short test flight during which it reacted normally made a good take off in good weather, with the landing gear coming up when the aircraft was 100 feet high, it continued on a straight course from the west end of the east west runway gaining height all the time, when it was about one mile from the airfield it made a right turn of ninety degrees out of the traffic pattern. After making the right turn it continued on a straight course, then made a steep turn round to the right. It was noticed that the aircraft had turned to the right because a left hand pattern was the rule. While in the turn the nose of the aircraft started towards the ground and the aircraft disappeared out of sight 1½ miles North West of the airfield, followed by an explosion with flames rising some 200 feet high. Ambulances and fire crews were dispatched to the scene immediately.
Little remained of the B-24 by the time the fire crews arrived.
The aircraft had struck a small earthwork about 32 feet high, known locally as "Battery Cob" in the middle of otherwise level farmland, belonging to Northfield Farm, Clock Face. When it hit the aircraft was approximately on a 30 degree right turn, hitting the "Cob" with the right wing tip about three feet from its base. The force of the impact threw a major part of the aircraft over the top of the mound and scattered remains for about 200 yards beyond.
Due to the damage caused by the impact and resultant fire it was impossible to determine the cause of the accident, the propeller hubs showed one prop all the way to stop, two about three degrees from stop and one about fifteen degrees from stop. Witnesses stated that the aircraft sounded to be performing normally, but was seen to be losing altitude and at the last minute the engines were heard to rev up as if the pilot had seen the "Cob" and was trying to clear it.
Off duty police constable Edward Longland was in the yard of Northfield Farm when the aircraft flew overhead and then saw it losing height and then bank to the right until he could see the outline and upper surface of both wings, when suddenly it hit the "Cob" about 300 yards from where he was standing, he immediately ran to the scene and upon arrival saw that the aircraft was a mass of flames and had broken into two parts with wreckage strewn over a large area. He then noticed a body lying on the ground near the front of the fuselage which was burning furiously, he shielded his face with a sack and dragged the crewman clear, but unfortunately he was dead, he was then assisted by Civil Defence Warden Robert Wilson and Special constable Redhead who had arrived on the scene and they made repeated attempts to recover other members of the crew from the wreckage, but owing to the heat and smoke they were unable to recover any further crewmen, during this time there were numerous minor explosions amongst the wreckage. Soon after the AFS arrived and commenced to extinguish the fire and after the flames were brought under control a further four crewmen were recovered, shortly afterwards USAAF personnel arrived and took charge of the situation.
Charlie Morley, now 71 years old, was a 12 year old eye witness to the incident. His recollection of the Battery Cob crash is still vivid in his mind. He was blackberrying nearby with a couple of pals when they heard the a/c crash explosion and saw the flames. They ran to the site. By the time they got there, the AFS was already there, but the fire engine had gone into the ditch at the side of the track up to Battery Cob and was lying on its side.
In February 1944 at Widnes Police Court a special ceremony was held, the occasion being the presentation of awards by "The Society for the Protection of Life from Fire", the awards were handed out to Constable Longland who received a bronze medal along with a merit badge and a money grant, and a framed certificate along with three guineas to special constable Redhead and Warden Wilson. All those on board were all initially buried in Brookwood cemetery, London. After the war most of the casualties were repatriated and the remainder moved to Cambridge American Cemetery, where 2nd Lt Merle F Tompkins, F/O Virgil R Bell, 2nd Lt Eugene V Maloney and T/Sgt Walter F Murphy now lie.
| | | | | |
| --- | --- | --- | --- | --- |
| Name | Serial | Unit | Location/Position | Status |
| 2nd Lt. Merle F Tompkins | 0-740004 | 329th Bomb Sqn, 93rd Bomb Group | Pilot | K. |
| F/O Virgil R Bell | T190735 | 330th Bomb Sqn, 93rd Bomb Group | Co-Pilot | K. |
| T/Sgt. Reed Armstrong | 39827450 | ? Bomb Sqn, 93rd Bomb Group | Flight Engineer | K. |
| 2nd Lt. Eugene V Maloney | 0-801485 | 578th Bomb Sqn, 392nd Bomb Group | Navigator | K. |
| T/Sgt. Leo E Lovasik | 33278427 | 329th Bomb Sqn, 93rd Bomb Group | Radio Operator | K. |
| T/Sgt. Hyman Schwartz | 13045512 | 579th Bomb Sqn, 392nd Bomb Group | Crew Chief | K. |
| 2nd Lt. William McKnight | 0-801490 | 578th Sqn of the 392nd Bomb Group | Passenger | K. |
| Capt. Maurice A Lofgren | 0-727895 | ? Bomb Sqn, 93rd Bomb Group | Passenger | K. |
| T/Sgt. Walter F Murphy | 11008976 | 579th Bomb Sqn, 392nd Bomb Group | Passenger | K. |
Following placing this article, we have had emails from relatives in the United States regarding two crew members of this aircraft and we have now been able to add the following photographs - Thank you for helping us to tell the story of these brave young airmen.
| | |
| --- | --- |
| | |
| 2nd Lt William McKnight | T/Sgt Leo E. Lovasik |
From this correspondence considerable information has come to light about Technical Sergeant Leo E. Lovasik, who it seems was a remarkable young man, though sadly recognition of this, it seems, only came posthumously. He was born on November 13th 1921, one of eight children from a "Slovak" family at Tarentum, Pennsylvania, a steel-town about twenty miles north-east of Pittsburgh. The family were devout Catholics and he seemed destined to follow his eldest brother by training to enter the priesthood, but after much soul searching decided this was not for him. However, he remained committed to his faith and as he began his basic training in July 1942 he took every opportunity to promote these principles amongst his fellow men. He must certainly have been quite a character, as even though he was the only Catholic on the 11-man crew of his B-24, he persuaded them to name their aircraft "Valiant Virgin" in honour of the Virgin Mary. After explaining the protection he felt this would bring to them, the name was duly painted in large white letters on the nose!
Leo never saw action, he flew with his crew and their B-24 to England at the end of May 1943 and following further training was assigned to ferrying B-24s around the country, until that fateful flight on the 30th August. Following his death, Leo's Brother - Rev. Lawrence G. Lovasik wrote a booklet containing a collection of the prolific letters Leo had written home to his mother and sweetheart, titled "Knight of Our Lady, Queen of the Skies". This booklet was reprinted three times in 1943, and some one hundred thousand copies were distributed to US servicemen during World War II. The work was revised and enlarged after the war and a new hardback edition was published in 1960 - though the book largely focuses on his religious beliefs, it provides a unique insight into this young idealistic American aviator.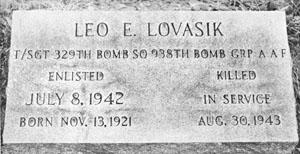 Leo's grave at St. Clement Cemetery
Following Leo's death his sweetheart entered a convent in 1945 and in 1947 his body was exhumed from its temporary plot in Brookwood cemetery, London and now lies close to other members of his family in St. Clement Cemetery, Bakerstown Road, Tarentum, Pennsylvania.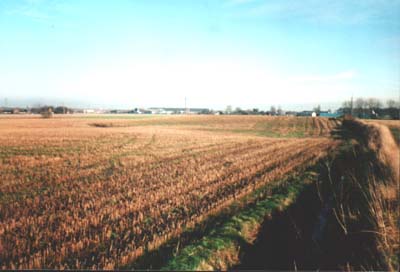 "Battery Cob" stood in the top right hand corner of the field
"Battery Cob" which was built by the 2nd Lancashire Engineer Volunteers in 1871 and was some 30 yards long by 15 yards wide, was triangular in section with an 8 ft wide flat top, it was used by local volunteers as a rifle range during the Boer, Zulu and 1st World Wars. The "Cob" was subsequently levelled by the farmer - Mr Eddie Sefton, shortly after WW2 - effectively removing all traces of this tragic incident.
B-24H Liberator 42-7468 was built by Ford Motor Company at their Willow Run factory, Ypsilanti, Michigan at a cost of $305,711 and arrived in the UK on 15th August 1943 with its sister aircraft 42-7467 which crashed 3 days earlier at Aspull, Nr. Wigan (Article on this incident to follow soon), Willow Run built 8,685 Liberators and at one point was building 80 % of all Liberators built in 1945, when an aircraft was being assembled every 59.34 minutes.
---
Acknowledgements:
Michel Stowe of Accident Reports, Aldon Ferguson, Keith Atherton, Terry and Don Lovasik. The Daughters of St. Paul, Boston, MA. United States, Mike Jett, Annette Tison (392nd BG).


This page Copyright © Mark Gaskell & Nick Wotherspoon 2001