Halifax DT578 - Great Whernside

23rd November 1943
Updated 13.12.2004
| | | | | | |
| --- | --- | --- | --- | --- | --- |
| Type | Unit | Base | Duty | Crew | Passengers |
| Halifax BII | 1658 HCU | Riccall | Night Cross-country Navex | 7 | - |
Mystery surrounds the circumstances behind the loss of this aircraft, which was one of six Halifax aircraft which took off from their Yorkshire base at Riccall for a night cross-country navigation exercise on the 23rd November 1943, despite gale warnings of force 8 having been issued - three crashed, two returned with engine problems and only two completed the flight. It was noted that of all the airfields in No. 4 Group, only Riccall carried out any flying that night. DT578 took off at 2327 hours its prescribed route being Riccall - St Bees Head - St Abbs Head - Hexham - Sleaford - Northampton - Base, at 2355 the aircraft was plotted by an Observer post near Kettlewell, flying in the vicinity of the 2,300-foot mass of Great Whernside. As the plane was observed to be circling three or four times, it was reported by the post as an aircraft in distress. A few minutes later it appeared to be gaining height as it continued to circle, but soon after was heard to be in a steep dive from which it never recovered, impacting on the Western steep slope of Great Whernside at around 2000 feet.
| | | |
| --- | --- | --- |
| Name | Position | Status |
| Sgt. S. Chadwick | Pilot | K. |
| Sgt. F. W. Robson | Navigator | K. |
| Sgt. F.Robinson | Flight Engineer | K. |
| Sgt. N.Martin | Wireless operator / Air Gunner | K. |
| Sgt. D. P. Aitken | Bomb aimer | K. |
| Sgt. E. Stabler | Air gunner | K. |
| Sgt. K. Vincent | Air gunner | K. |
For many years it was thought that the probable cause of this accident was that a collision took place with Halifax JB926, from the same unit, taking part in the exercise and believed to be in the area at the time. It certainly appears that both aircraft experienced some difficulties due to icing and the latter aircraft also crashed, less than 10 miles away near Masham, killing its entire crew. However but closer examination of the AIB Reports, shows that JT926 was in fact over St Bees Head at the time of DT578s demise and crashed at Agra Moor at 0115 hours.
It was found that DT 578 had in fact dived vertically into a particularly steep section of the hill, falling away at almost the same angle, causing it to almost completely disintegrate before embedding itself at the point where the slope began to level out. This caused parts of the aircraft to be spread over a large area of the western face of Great Whernside, though there was no evidence of structural failure prior to impact. The terrific explosive force of the impact was found to have blown the rear fuselage section some 250 yards from the main crater. Again this scatter has been misinterpreted in the past as being evidence of a mid-air break up resulting from a collision.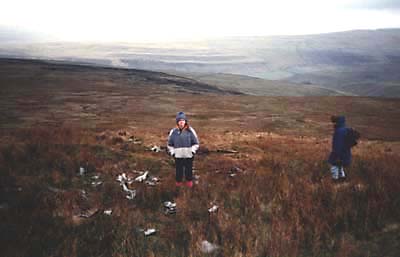 Scattered fragments of DT578
The recovery of the bodies of the crew was particularly harrowing for those involved, some of whom were conscientious objectors and the clearing of the wreck took a number of weeks in terrible weather conditions.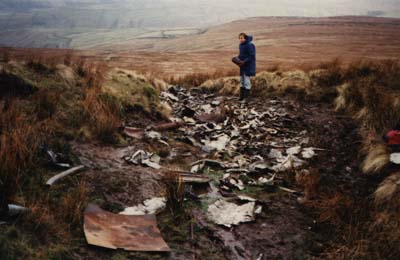 Wreckage lying in the main crater.
Many parts of DT578 remain on Great Whernside today, some lying in what appear to have been pits where they were buried and mixed with parts from other aircraft that have been lost on this hill. The largest concentration lies in what appears to be the impact crater. Recognisable parts include oxygen bottles, armour plate and hinge assemblies from wing flaps, though most have suffered badly from exposure to the elements and arouse little more than idle curiosity from the many walkers who frequent this area.
---
Acknowledgements:
Brian Lunn (Aircraft Down II), RAF Form 1180, Mr. W. Forrester. AIB Report No. 1719 (via Brian Lunn).
This page & all articles on this site Copyright © Nick Wotherspoon 2000