Halifax JB926 Agra Moor

24th November 1943
Updated 13.12.2004
| | | | | | |
| --- | --- | --- | --- | --- | --- |
| Type | Unit | Base | Duty | Crew | Passengers |
| Halifax BII | 1658 HCU | Riccall | Night Cross-country Navex | 8 | - |
This aircraft was one of six Halifax bombers which took off from their Yorkshire base at Riccall for a night cross-country navigation exercise on the 23rd November 1943, despite gale warnings of force 8 having been issued - three crashed, two returned with engine problems and only two completed the flight. It was noted that of all the airfields in No. 4 Group, only Riccall carried out any flying that night. JB926 took off at 2305 hours its prescribed route being Riccall - St Bees Head - St Abbs Head - Hexham - Sleaford - Northampton - Base, at 0056 the last of four routine messages were received from the aircraft, estimating there E.T.A. at Sleaford to be 0136 hours.
At 0115 hours the aircraft was heard flying over a point 3 miles to the South of Agra Moor to the West of Masham, but soon after was heard to be in a steep dive from which it never recovered, and a red glow was observed over the Moor as the aircraft impacted just below Slipstone Crags. Just after this another aircraft was heard in the vicinity and this was later identified as another Riccall Halifax, which was returning to base with engine and icing problems.
| | | |
| --- | --- | --- |
| Name | Position | Status |
| Sgt. R.E. Bacon | Pilot | K. |
| F/O H. McCarthy | Navigator | K. |
| Sgt.J. Titterton | Flight Engineer | K. |
| Sgt. G.H. Manley | Flight Engineer | K. |
| Sgt. B.F. Taylor | Wireless operator | K. |
| Sgt. J.J. MacGilliveray | Bomb aimer | K. |
| Sgt. A. Winton | Air gunner | K. |
| Sgt. D.E. Philips | Air gunner | K. |
For many years it was thought that the probable cause of this accident was that a collision took place with Halifax DT578, from the same unit, taking part in the exercise and believed to be in the area at the time. It certainly appears that both aircraft experienced some difficulties due to icing and the latter aircraft also crashed, less than 10 miles away on Great Whernside, killing its entire crew. However closer examination of the AIB Reports, shows that JB926 was in fact over St Bees Head, 70 miles away, at the time of DT578s demise, over an hour earlier at approx. 2400 hours.
It was found that JB926 had in fact suffered severe structural failure in the air: the port outer wing had broken away, both outer engines had been torn off, as had both the port and starboard elevators. This together with the fact that the port wing tip was badly shattered and showed distinct scoring marks led again to conjecture that their had been some form of collision, either with another aircraft or a balloon cable. Later investigation found that the detached wing tip had almost certainly struck the fuselage of its own aircraft during the break up and the scoring marks had been made by JB926's own aerial wires.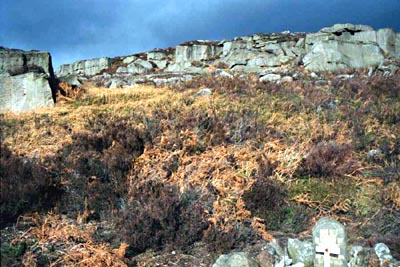 The main wreckage fell below the rocky outcrop of Slipstone Crags
The main wreckage fell below the rocky outcrop of Slipstone Crags at the Southern edge of Agra Moor where it was largely destroyed by a severe post-impact fire. The port wing was found to have failed at the joint between the main and outer plane spar, the fittings literally having been torn apart and both elevators had moved upwards, well beyond there normal travel before breaking away. The reason given for the crash was structural failure following loss of control with the severe weather conditions being cited as a contributory if not primary factor.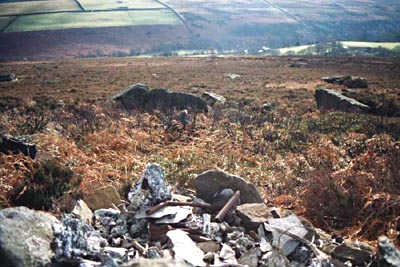 Looking down the slope at the crash site of JB926
Few parts of JB926 remain on the slopes below the rocky outcrop of Slipstone Crags today, most surviving parts probably have been removed during the post-crash investigation. Many of the fragments that remain bare mute testimony to the severe post-impact fire, being little more that unrecognisable lumps of once molten fused alloy. Many of these have been collected together by walkers and visitors to the site and form part of a touching, unofficial memorial cairn on the site where the main wreckage burnt.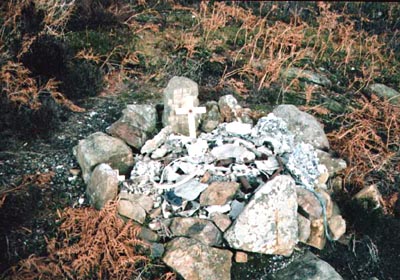 Memorial Cairn to the crew of JB926
---
Acknowledgements:
Brian Lunn (Aircraft Down II), RAF Form 1180, AIB Report No. 1720 (via Brian Lunn). Alan Clark, Mark Sheldon (Photos).
This page & all articles on this site Copyright © Nick Wotherspoon 2000