LANCASHIRE AIRCRAFT INVESTIGATION TEAM DIARY

ARCHIVE - Page 3.
Last updated: 19.05.2007
In Order to keep the current diary page to a reasonable size and as up to date as possible this archive contains past diary entries which may still be of interest to visitors to the site who wish to know more about our past activities.
14.03.2004 Site investigation - Defiant N1651, Marshaw Fell, Crashed 18.08.1941.
A dismal wet Sunday morning failed to deter us finally getting around to re-visiting this local high ground site to see if any remains were still in-situ and to record an accurate grid reference. The weather seemed to close-in as we approached the top of the fell and the mist shrouding the summit meant that compass bearings were required to locate the trig point, which we decided would be the starting reference for our search. The top of the fell has eroded severely over the past 20 years and the trig point now stands several feet above the surface on a column of it exposed foundations and the altered landscape meant that relying on memory and old photos of the site were not going to be sufficient. Finally after a couple of hours diligent searching & just as we were about to give up (isn't it always the way!) a fragment was spotted. This proved to be an intact battery mounting tray and nearby was the battery it once held. The actual impact point was some 50 yard down the slope from this point & it appears this battery was thrown clear & disappeared into the peat, only to reappear 60 years later due to erosion. The pilot P/O N.S.J. Sharpe of 256 Squadron survived the impact and attempted to crawl to safety along a track that led off the moor, where he was found unconscious by rescuers - Sadly he succumbed to his injuries soon after reaching hospital. Defiant N1651 was left largely intact after the crash and it appears it was cut up into manageable sections and dragged off the hill, leaving only a few fragments to mark the spot.
| | |
| --- | --- |
| | |
| Only small fragments remain. | Intact battery with mounting tray. |
16.05.2004 Site investigation - P-51B 43 - 12419, "North of Rochdale", crashed 04.06.1944
Following a report from fellow, Peak District based, enthusiasts, Mark Sheldon and Alan Clark that they had found a fragment believed to originate from P-51 43-12419 - an incident that I have been researching. We decided to all meet on the site and attempt to grid search the area to see if any more parts might come to light. As we expected the site proved to be contaminated with all sorts of metal artifacts - sadly none of aircraft origin, but we did start to find quantities of spent .303 ammunition indicating that the area had seen military use in the past. However a short while later a promising signal revealed the item in the photo below, quickly followed by another identical item, so we decided to call it a day!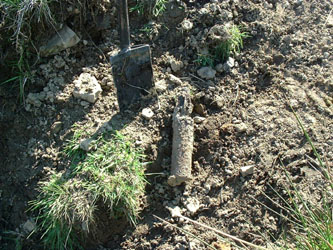 Live 2 inch mortar shell - could spoil anyone's day!
18.07.2004 Site investigation - Spitfire Vb, "North of Manchester", crashed 1942.
Afraid no details on this one just yet. We have been following up local witness reports that a Spitfire came down to the "North of Manchester" in 1942, with the pilot bailing out, for some time now. Recently, after a lucky break, we have managed to identify the aircraft and pilot involved and have narrowed the impact area down to four fields. The area around the site has seen much change over the last 60 years through industry and mining, but fortunately the fields in question seem to have remained relatively untouched. Our Metal Detector search began along a boundary indicated by a witness now living in the USA, but after a short time in very sticky conditions we decided to abandon this and to simply familiarise ourselves with the terrain, so that we could again study period aerial photographs and return when the crop was off.
27 - 30.07.2004 Major Excavation - A-26 Invaders: 43-22298 & 43-22336, Warton Marsh - In Association with Channel 4's "Time Team".
Apologies to all those who know us, about the veil of secrecy that we drew over this project, which took up most of our time over the year. However this was unavoidable due to a number of factors including a promise not publish full details before the project appeared as the third episode of the new series of Time Team aired on 16th January 2005. - click on the Time Team logo below for full details.
12.09.2004 Follow-up Site investigation - Spitfire Vb, "North of Manchester", crashed 1942.
Our second visit to the site, following a discussion with the farmer, found all four fields free from crops, but still very sticky! Our reassessment of the aerial photos and witness reports appeared to indicate one particular field, though this had, at the time of the crash, been two smaller fields, and the boundary had been removed. With five detector users we began a systematic (well almost!) sweep of the area and soon had some small aluminium fragments, all from a relatively small area. This was then searched more thoroughly revealing more fragments and each signal was pegged out - some parts having rivet holes and one being identified as an aircraft battery retaining clamp wing nut. Two neighbouring patches of finds made up the area and one of these indeed gave reading from our Forster machine. So having taken a GPS reading, we packed up and following further talks with the landowner, we are awaiting an MOD permit.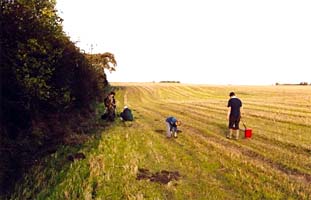 The crash site is pinpointed.
14.11.2004 Site investigation - Hurricane I, "Cumbria", crashed 1940
As often happens during our research on an incident, we came across a reference to an excavation made on the site during the 1970s. In this case whilst investigating a Hurricane lost on an operational sortie in October 1940 - making it a genuine Battle of Britain site :-) Although not a promising start we decided to investigate further and found that a preliminary search of the site had indeed been carried out, but a planned full excavation had never taken place. Tracking down one of the individuals involved in the earlier search certainly saved us a lot of time and we soon located several, shallow detector finds including a cockpit lamp holder with the remains of the bulb still in place and a 1939 dated .303 MG round. As usual these find were pegged out and a distinct shallow depression became visible at the centre of the area indicated. This spot gave a clear medium strength signal from our Fisher Gemini and several distinct substantial readings from the Forster. Again a GPS reading was taken and following further talks with the landowner, we are now awaiting an MOD permit.
21.11.2004 Guest Site investigations - Albermarle & Blenheim.
Though not LAIT projects, I was asked to look at two crash sites outside our area, using my Fisher Gemini 3 and Forster 4.105 Locator, in order to determine if any substantial remains might still be buried.
Firstly was a rare beast - an AW41 Albermarle, the crash site of which proved to be a sloping meadow with a herd of cows + Bull in residence - they didn't really bother us but licked the Land Rover we were using from top to bottom - Ugh! The site was supposed to have been picked clean, so I was not expecting much - but the Fisher showed major contacts. - A local came to watch & pointed out damage to a large tree done as the a/c came in, giving an important clue as to the angle the plane came in on. By examining the surface I could see two shallow craters with a third irregular depression between them - Sure enough both "craters" gave sizeable readings - seems no one has gone over the site with anything better than a "kids toy" detector and the top couple of feet of soil seems to be gravel obviously tipped in to fill the damage. So my friends are off to talk nicely to the farmer!
The next site - a Blenheim nearly deafened me - The field was flat with no discernible craters, but numerous small fragments found with conventional detectors soon pinpointed the site. Again I found three target areas all in a nice neat line, but a little closer together and all major contacts - Definitely two engines still in situ IMO. This one will need some careful planning!
28.11.2004 Site investigation - WB-29 44-61600, Near Kirby Lonsdale, crashed 26.10.1955.
Another relatively well-known site that we have recently been researching and decided that a few small representative pieces would be nice to complete the project and form part of a display at the museum. The site is an exposed fell-side and I have to confess that I was damn cold!!!! We knew that no major remains had been left at the site, but were surprised to find an area, away from the impact point indicated by original photos, littered with numerous small pieces just under the surface. Yet the main impact area, though clearly identifiable was almost completely devoid of fragments. A few recognisable fragments were soon unearthed including a couple of nice component makers plates. Though a more surprising find was approx. 20 small calibre carbine? rounds still in the remains of their carton - American made and dated 1944 - presumably part of a survival kit?
"Then & Now" WB-29 44-61600 near Kirby Lonsdale
04.12.2004 Site investigation - Fiesler Fi103 / V1 Flying Bomb, Near Preston, Impacted 24.11.1944.
This is likely to be my last foray for a short while due to health reasons - Hence I am finally sitting down long enough to update this website! I have known about the impact site of this V1 for many years, but only just got around to carrying out a metal detector search for any remaining fragments. It was one of 50 or so that were air-launched over the North Sea on Christmas Eve 1944 and were believed to be aimed at Manchester, though few hit the city. It apparently struck a chicken shed, close to two cottages, the detonation totally obliterating the shed and lifting the cottages from their foundations and causing them to partially collapse - fortunately there were no fatalities.
| | |
| --- | --- |
| | |
| My son in the crater - The agricultural building behind stands on site of the demolished cottages. | Large shallow crater is still discernable, centre - The roofs were ripped from the farm buildings in the distance |
A quick visual survey of the field reveals a large shallow hollow behind the site of the cottages (now an agricultural building) and examining this it quickly becomes apparent that this is the crater, which was filled with rubble and rubbish. We searched around the perimeter of this "crater" and the area immediately behind the cottages, but it was slow going as the field was full of ferrous contamination - Horseshoes, nails, cast iron scraps etc. and of course the V1 was steel so we had to dig every signal. But we did find a fragment of aluminum alloy, which appeared to have been subjected to great force and shattered from its original component. Then my 10 year old son got a large ferrous signal - so large we almost didn't bother to dig it up, but he insisted! This proved to be a 2.5 x 1 foot section of heavy gauge steel sheet, badly crumpled as if it had been impacted into the ground and lying in natural clay, so not part of any in-fill. Not 100% certain it is V1 but looking promising!
16.01.2005 Site investigation - Oxford BM 837 and Bristol 170 Freighter G-AICS - Winter Hill
Over the years several aircraft have struck Winter Hill, which dominates the skyline above Horwich and the tragic loss of Bristol 170 Freighter Mk.21E G-AICS on 27th February 1958 was one of the worst air disasters of the time (To be covered in detail soon). The purpose of this investigation was to re-establish and record the precise impact point of the Oxford BM 837, which I discovered some 20 years ago when a small burnt area littered with wooden stringers and fragments of yellow painted fabric was still visible - if you knew where to look! In the intervening years this visible evidence had disappeared and the notes that I made at the time only gave an approximate location. Despite poor visibility on the day we decided to continue, as the hill is surmounted by a large TV transmitter complex, meaning plenty of landmarks to aid navigation! However it was still damn cold and after a couple of hours grid searching with only fragments attributable to G-AICS being found, we were getting disheartened. We knew the two impacts were close together and my colleague, Mark Sheldon had even identified wreckage from BM 837 in photographs on the original board of inquiry report on the loss of G-AICS! As usual just as we were ready to give up, we came across a signal some distance from the others and on investigation a small fragment of yellow painted fabric came out with the piece of metal. Concentrating on this area several more signals were also accompanied by fragments of wood and fabric and an AM marked bakelite junction box showed that we had a military plane. Finally a rocker cover from an Armstrong-Siddeley Cheetah engine confirmed our suspicions.
| | |
| --- | --- |
| | |
| Visibility was far from ideal! | First fragments of BM 837 emerge. |
Oxford BM 837 was allocated to No. 410 "Cougar" Squadron at the time of the crash and was being flown by Flt. Lt. Martin Anthony "Cy" Cybulski RCAF, who had been warded the DFC on the 9th Nov 43. On the 24th December 1943 he flying on a cross-country flight when he began to descend at his estimated time of arrival at his destination, only to strike Winter Hill some 40 feet below the summit, destroying the aircraft and leaving him injured. Flt. Lt. Cybulski became quite a celebrity earlier in 1943 when the Mosquito he was flying was photographed with most of its control surfaces and markings burnt away after a Do 217 he had been attacking exploded close to his aircraft.
This page & all articles on this site Copyright © Nick Wotherspoon 2001- 2007