LANCASHIRE AIRCRAFT INVESTIGATION TEAM DIARY

ARCHIVE - Page 2
Last updated: 19.05.2007
In Order to keep the current diary page to a reasonable size and as up to date as possible this archive contains past diary entries which may still be of interest to visitors to the site who wish to know more about our past activities.
13.05.2002 Site investigation - P-51B 43 - 6635, Knowsley Park. Crashed 16.02.1944.

Monday 13th May saw two Team members visiting the site of the former satellite landing ground at Knowsley Park under the watchful (and extremely helpful) eye of the Head Forester - Our main aim was to locate the crash site of P-51B 43-6635 which crashed whilst attempting an emergency landing there on 16th February 1944, sadly resulting in the death of its pilot Flight Officer Eugene S. Rybaczek. Having spent the morning viewing some of the scant remains of airfield buildings and dispersals etc. We calculated the approximate area of the threshold of the runway, where the aircraft was known to have dived into the ground and began a systematic detector sweep. Three quarters of an hour later we found our first fragment - an aluminum hydraulic pipe with US made brass connector. Readjusting the search pattern to narrower lanes, in the vicinity of this piece, soon brought to light several more fragments including a headphone earpiece from a flying helmet and the face of the airspeed indicator, all showing signs of impact damage. One larger signal proved to be a small cache of remains just below the surface indicating the actual impact point, with traces of oil and two WW2 vintage asbestos fire blankets bearing testimony to the events of 56 years before.
Impact point marked with the tools
of our hobby!

Crumpled face from the Airspeed
Indicator
25.05.2002 Excavation of the site of Defiant N3328 of 10AGS. crashed 24.10.1942 - Near Gisburn.

Saturday 25th May saw half a dozen LAIT members and several guests, together with a 6-ton tracked Hitachi excavator :-) finally get together on an occasionally rain-swept hillside near Gisburn for the long awaited excavation of this aircraft. As predicated the first three feet or so of soil removed revealed very little trace of N3328 due to a previous hand-dig on the site in the 1970s, but once this material was removed a distinct dark shadow in the soil was revealed and our detecting equipment continued to register a major contact below. As the day went on the weather improved, as did our spirits has the excavator began to reveal substantial remains of the Defiant - first a main undercarriage leg and shredded tyre, then an escape axe, instruments, switches and sections of wiring from the cockpit area. However it soon became apparent that objects were being uncovered in a haphazard order as the machine shuddered on contact with a very solid object. This proved to be the propeller with one full blade and three quarters of another still attached - this took an hour of careful digging to recover intact - and once removed revealed much further wreckage below, when normally this item would be the deepest found. Immediately under the prop a remarkably intact control column with spade-grip was a spectacular find, though despite finding three cylinder liners with pistons, the generator, oil and coolant pumps and the shattered carburetor - no engine was found. Later local witnesses came forward and told how a small crane and several days digging were required to recover the engine just after the crash and as we started sorting the large pile of fragments recovered during our dig - a snapped, large, link of chain showed that it must have been quite a struggle!
| | |
| --- | --- |
| | |
| Conditions were a little sticky! | The Control Grip |
N3328 was on a ferry flight from No.1 Air Armament School at Manby to No.10 Air Gunner School at Walney Island near Barrow, when it was caught in a severe hailstorm. The aircraft is stated as having stalled and dived into the ground, though whether icing or turbulence was the cause will never be known. The pilot - 22 year old Flight Sergeant John Leslie Goulter from Glen Niven, Queensland, Australia was sadly killed in the crash and is buried in Barrow-in-Furness cemetery.
06.09.2003 Saw the official opening of the Lancashire Aircraft Investigation Team's display building at the The RAF Millom Museum , which now houses almost our entire collection, in a WW2 vintage, former RAF officer's squash court building. LAIT members Russell Brown and Mark Gaskell burnt the midnight oil for several weeks to put together some superb wall displays covering not only incidents appearing on our websites, but also much fascinating material on the history of the various airfields and associated sites in our region throughout WW2 - illustrated with some fascinating photographs of what now remains taken over the summer. Obviously the relics from our various digs together with displays telling the stories of the aircraft involved and their crews will be the main focus, but we also intend to include some of our individual collections of memorabilia, including home front and blitz related items.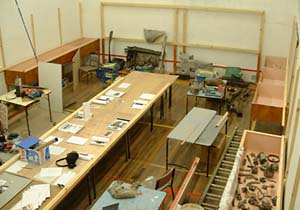 Only one week to go! - Yes it was ready in time!!!
13.09.2003 Excavation of the site of Supermarine Attacker WA535 of No. 767 Squadron crashed 05.02.1953 - Near Winwick.

A glorious sunny Saturday morning saw the usual half a dozen LAIT members plus guests and an mechanical excavator :-) gather in an field at Winwick near Warrington for our first jet crash site project. Although indications from our detecting equipment were good and the Board of Inquiry report from the PRO stated that some 75% of the aircraft remained unrecovered, we were a little apprehensive as to how recognisable what was left would be. At approx. six feet down in the very sandy subsoil we uncovered the stainless steel jet-pipe - exactly where the recovery team reported it to be when they dug down to it 50 years before. Digging carefully each side of this revealed a mass of compacted wreckage just below - thankfully not 25-30 feet below as the 1953 team estimated! Soon we were finding recognisable pieces including the arrester hook, tailwheel assembly, oxygen bottles, armour plate etc. The engine proved to have shattered but even the pieces proved awkward and very heavy, including a remarkably intact compressor wheel and several flattened combustion chambers. By now we were at a depth of some 10-12 feet and digging was halted as a couple of volunteers descended to recover the emergency dinghy which had been revealed - this was soon followed by a complete, folded immersion suit and a parachute, still in its pack - sad reminders of the fate of the pilot, who had initiated ejection in the last moments before impact - far too late to save himself. The trail of wreckage petered out at approx. 15 feet in depth and amongst the last finds were the nose armour plate and a large compacted mass which proved to be the instrument panels and fixed nose balance weight - all literally welded together with the force of the impact.
| | |
| --- | --- |
| | |
| The dig well underway in ideal conditions! | The Attacker's distinctive double tailwheel. |
WA535 took off from RNAS Stretton at 15.30 on the 5th February 1953, piloted by Mr Roy Edwin Collingwood (22) a commissioned pilot with 767 Squadron, for his third familiarisation flight on the type. He was last heard from at 15.37 when he confirmed he was at 17,000 feet and was climbing in preparation for a high speed run. Several minutes later witnesses on the ground saw the aircraft approach the Burtonwood area at approx. 3000 feet and then go into a steep almost vertical climb to approx. 8-9000 feet. It then rolled over and went into a dive, although still giving the impression that the pilot had control, but it never pulled out and impacted vertically at high speed. Examination of the wreckage showed that the pilot had jettisoned his canopy some two miles from the point of impact and attempted to eject in the last second before impact - it was thought that he was suffering from anoxia, though no definite cause for the crash was ever decided. Roy Edwin Collingwood was buried in Holy Trinity churchyard, Southchurch, Southend-on-Sea, on 13th February 1953. He was aged 22.
18.10.2003 Site investigation - C-54 45-543, Stake House Fell, Park. Crashed 07.01.1949.

Having gained permission from the Estate Manager, Gamekeepers and Farmer we were all set to investigate reports that substantial wreckage still lay on a private grouse moor, at the crash site of this Berlin Airlift veteran - despite earlier reports that any remaining material had been removed by a local scrap merchant over 30 years ago. On reaching the site there was indeed a surprising amount of aircraft remains at the foot of a steep slope and it soon became obvious that the plane had impacted on the scree higher up this slope and had been dismantled and burned on the site, with the heavier items rolling to the bottom where they now lie. No engines remain at the site, these having apparently been taken for scrap, only some very rusty reduction gears, which appear to have come from the aircraft's own engines, not those carried as cargo. All three undercarriage legs lie at the site, the two main oleos being intact and incredibly heavy forgings, with the smaller nose assembly being broken and only the upper section being visible. Four stainless steel firewall and exhaust collector assemblies again seem to originate from the aircraft's own engines and exhibit varying degrees of destruction, illustrating the force of impact at the time of the crash. An examination of the scree slope revealed many small items jammed in amongst the rocks, including hundreds of fragments of medicine bottles, melted radio valves (too many to be from the aircraft's own radio equipment), cable tensioners, electrical components, cargo strap fittings and a release cable from an airman's parachute.
| | |
| --- | --- |
| | |
| Firewall and exhaust collector assemblies | C-54's massive main U/C legs. |
This page & all articles on this site Copyright © Nick Wotherspoon 2001- 2010