LANCASHIRE AIRCRAFT INVESTIGATION TEAM DIARY

ARCHIVE - Page 1
Last updated: 19.05.2007
In Order to keep the current diary page to a reasonable size and as up to date as possible this archive contains past diary entries which may still be of interest to visitors to the site who wish to know more about our past activities.
04.01.01 Visit to crash site of P-47 now known to be 42-22758, Pendle Hill:

Few fragments remain on this site today, possibly due to the efforts of the MOD who have been systematically clearing the hill of ordnance left over from training carried out here during WW2. Following contact with a local individual who had recently found several pieces of the aircraft we decided to have one last try to identify the exact site of this crash. On out visit we were also fortunate in finding a couple of fragments, including a section of engine cowling support framework in the deep bracken, which covers the site. This had a number of stamped markings visible, which confirmed that the aircraft was indeed a P-47 and enabled us to pinpoint the crash site. Following this visit we renewed our research into this incident and have now been able to identify the aircraft and its pilot and have a copy of the incident report from the US.
28.01.01 Visit to crash site of P-38 42-12905, Dunsop Fell:

A third visit was made to this site in order to attempt to find an isolated cache of wreckage seen in the area by David Earl a few years ago . After an hours searching a previously overlooked and particularly boggy area near to the main impact site of the P-38, we found several pieces of aircraft in a shallow gully. It was noticeable that the amount of wreckage was somewhat depleted when compared to photographs provided by David and we wondered how long it will be before these sites disappear altogether.
09.02.01 Display at Harris Central Library, Preston:

Following the success of the "1940s House" television series, the library where I work asked if I could arrange a display to promote the new book which has been published to compliment this programme. The theme of the display was the British home front, with associated artifacts, display panels and other books on the subject from the library's stock. To date the display has been well received and there is now a request waiting list for the library's copies of the 1940s house book!
17.02.01 Acquisition of Land Rover:

Following my 1968 Volvo Amazon Station Wagon being written off in an accident late last year (thankfully no-one was seriously hurt), I have been searching for a suitable replacement vehicle - the Volvo had proved a useful work-horse at many of our digs. After some consideration I decided on a Land Rover and after rejecting several vehicles, purchased "Mucky Mable" a 1972 Series III SWB Diesel Station Wagon. Mable needs a few bits and pieces sorting out - don't they all? but will hopefully prove useful on future LAIT projects.
18.02.01 Visit to crash site of P-51 44-13403, Ribble Estuary.

A second visit was made out on to the Ribble marshes to the approximate location of the crash site of this aircraft following a report from a local wild fowler that aircraft remains had been uncovered by the scouring action of recent floods. Five LAIT members and a local guide traveled out to the sea wall at the edge of the marsh in the Land Rover, saving 3/4 hour extra walking required on our previous visit. The "aircraft remains" were found approx. half a mile out onto the marsh in a deep gutter, but were obviously not of aircraft origin, but appeared to be an old rope locker? from the bow of a fishing boat. We continued on to the site of the crash, as recalled by our guide, and spent some time studying landmarks in the area against a wartime photo of the crash scene. Having satisfied ourselves that we were indeed in the vicinity of the site we attempted a survey using our Fisher two box detector, but local ground mineralisation prevented the machine from working effectively. Though the site is reported as having been cleared at the time of the crash, we hope to find some confirmation that we have identified the correct location and will try again with an alternative detector in the near future.
The crash site of 44-13403 - Then & Now.
May 2001 - No site investigation visits due to continuing Foot and Mouth crisis.

However we have been fortunate in tracking down a former enthusiast who investigated many crash sites in our area in the 1970s. His interests have now concentrated on restoring military vehicles, but fortunately he has kept many finds he recovered and has donated several items to the LAIT collection. One item we were especially pleased to obtain is the armoured backrest from P-47 Thunderbolt 42-22758 which crashed on Pendle Hill on 6th February 1944. Also donated were several items from B-24 42-50668 which crashed near Burnley on 19th February 1945, including a complete reduction gear assembly (very heavy!) which still turns!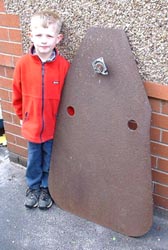 Pilots armoured backrest from P-47 Thunderbolt 42-22758
14.07.2001 Site investigation P-51 near Wigan - FMD still preventing many site investigations.

Very successful visit - everyone was in!!! Tracked down two brothers now in their eighties, one witnessed the crash & recalled it in detail, both were in the Home guard, as they worked on the farms and both visited the crash site afterwards. Two other witnesses interviewed recalled the incident in less detail and we had to be careful not to prompt replies. One did recall an "army camp" in the next field though. The A/C crashed in the front garden of a house built in the 1930s and apparently the family who lived there were actually in at the time of the crash & very shaken - it was only 30 yards or so in front of the house! We inspected the house, but any damage done is no longer visible - Have arranged to take the detectors back & check the garden in the next couple of weeks.

The ex Home guard chap was questioned about the "army camp" and he pointed out to us exactly where it was behind a nearby bungalow & told us that it was a searchlight unit. We had a quick look & immediately spotted a very military looking structure behind the house - looks like a generator building, will take a look on the next visit.
27.10.2001 Excavation of the site of Defiant N1694 of 256Sqn. crashed 07.04.1941 - Near Halsall.

We have finally broken our period of inactivity as far as practical site investigation with a dig, though it was a last minute thing due to crops/weather etc. Certainly had a good day, though could have done with an extra pair of hands - there were four of us & all tired by the time it came to filling in! - aircraft had impacted to approx. 4 feet in depth & engine had obviously completely shattered but much had been recovered at the time. Did find the main engine makers plate :-) As well as plates from the reduction gear box and the turret gun sight. Other finds included the hydraulic pump for the undercarriage, several shattered instruments, complete Morse code key unit, propeller control unit, many smashed engine fragments, part of the instrument panel + many fragments of switches, fuse boxes etc. Bottom of the hole was saturated in oil & chunks of crankcase and below this the three counterweights from the prop hub embedded in the clay - showing we had reached the limit of the penetration.
We are still cleaning fragments and amongst the parts identified so far, we were lucky enough to find the spinner badge encased in a piece of wreckage, showing that it pays to take your time with this task!. The aircraft appeared not to have burned as much as some witnesses had reported, so there were quite a few aluminum airframe parts, though some fire damage was visible - this seems to fit in with the crash report stating that the plane was low on fuel. Both crew baled out successfully, though one injured - another fighter from the Squadron shot down the Banks Marsh Ju88 that night, so the lack of ammunition found was rather odd - only one live round recovered + a couple of exploded cases & several heads - all tracer/incendiary + one broken cartridge case which had been fired! - testing the guns perhaps?
This page & all articles on this site Copyright © Nick Wotherspoon 2001- 2010