LANCASHIRE AIRCRAFT INVESTIGATION TEAM DIARY

ARCHIVE - Page 4.
Last updated: 25.03.2008
This diary is intended to keep visitors to our site up to date with the various current LAIT projects, with details of site visits and any important new information that may come to light during our research into specific incidents. So please come back to check this page regularly. Old entries are archived and can be found using the buttons at the bottom of this page.
19th March 2006 - Avro Shackleton M.R. Mk.3 (prototype) WR970, crashed 7th December 1956 - Foolow, Derbyshire.
Crash site investigation and survey in association with Alan & Mark of Peak District Air Accident Research. The aircraft crashed whilst on a test flight from Woodford to test the effectiveness of stall warning detectors. The aircraft was seen coming out of cloud with engines misfiring and struck a wall and cartwheeled across a couple of fields, disintegrating and catching fire - all four crew on board were killed in the crash (Full details and photos on Alan's website).
Our aim was basically to pinpoint and record the site and ascertain if any remains lay below the surface - we knew a group had previously investigated the site and persistent rumours exist that an engine still lies buried here. We were well prepared with the AIB report and photos showing the immediate aftermath of the crash and we soon began pegging out the more substantial signals, which proved to be along the line of the wing spar of the burnt out airframe, with four distinct areas of buried metal, indicating the final impact points of each of the engines. Scattered signals were also noted across the field to the point where the severed rear fuselage had come to rest. We surveyed the site using our Forster magnetometer, a Fisher Gemini III two-box detector and a Whites TM808 machine - all of which give slightly differing insights into what may lie buried. It soon became evident that none of the wreckage lying beneath our feet had penetrated to any significant depth and most was obviously badly burned. Only one of the engine impact points gave slightly stronger and deeper signals than the others and a distinct depression was evident - probably from the previous group's dig rather than an impact crater? However, the signals were definitely not characteristic of an engine or indeed anything substantial and we concluded that only cowling panel remains and possibly engine bearer fragments remained following the extraction of the engine by the recovery crew.
30th September 2006 - Heinkel He111 Werk Number 2871, GI+LH of KG55, shot down night of the 7th / 8th May 1941 - Hazel Grove.
Crash site investigation and survey in association with Alan & Mark of Peak District Air Accident Research. The aircraft had been taking part in a raid against the Trafford Park area of Manchester, when it was shot down by a Defiant of 256 squadron, based at Squires Gate (Full details and photos on Alan's website).
Our aim was basically to pinpoint and record the site and ascertain if any remains lay below the surface - we knew that at least one group had previously investigated the site and carried out a large scale excavation - though who took part in the dig, what was found or what became of the finds is unknown. Once again persistent rumours exist that an engine still lies buried here. We first surveyed the site using conventional detectors and soon began to find traces of the crash - mainly exploded machine gun ammunition, which indicated the area of the main impact. Using our Forster magnetometer, Fisher Gemini III two-box detector and a Whites TM808 machine - It soon became evident that despite the rumours, no substantial wreckage remains buried at this site. However we were still pleased to have been able to pinpoint and confirm the exact location to add to our records.
11th March 2007 - C-54G Skymaster 45-543, crashed 7th January 1949 - Stakehouse Fell near Garstang, Lancs.
Recovery of parts for display at the RAF Millom Museum. Following protracted negotiations with the MOD, County Archaeologist and English Nature (the land owner,at least, was very helpful!), we finally were issued with a permit to recover two specified items from the surface wreckage lying at this local crash site. As this site is one of only two official Berlin Airlift casualties in the UK we decided to recover one propeller hub and an exhaust ring / firewall assembly to form a display commemorating this important part of the Cold War.
| | |
| --- | --- |
| | |
| A good excuse for a day off-road! | Recovery underway! |
Unlike all the paperwork, the recovery itself was fairly straightforward, particularly as we were able to gain permission to approach to within a few hundred yards of the site with our two Land Rovers - However, this last last section of the journey was very steep and using an old car bonnet as a sledge seemed like a good idea until gravity prevailed and keeping control of the recovered sections on the descent back to the vehicles proved interesting!
1st April 2007 - Dragon G-ADEE, crashed 26th October 1935 - Fairsnape Fell.
This was an unusual project, as the aircraft involved - a DH84 Dragon II - was a civilian airliner which struck high ground on Fairsnape Fell on 26.10.35, killing the two occupants and burning out. The site had been pinpointed by Mark from Peak District Air Accident Research following leads gleaned from local press cuttings and the AIB report - needless to say I was speechless when he returned with a brass Marconi radio plate and said he had found the crash site! The site was on a very steep slope with numerous small fragments jammed in amongst the rocks, including a surprising quantity of radio components and another nice brass Marconi plate. Obviously very little airframe was present and most of what was there was very badly corroded after the fire plus 72 years exposure to the elements, but traces of carpet, fabric and leather upholstery were found as well as galley parts and the remains of an "HP" sauce bottle!
The steep crash site of G-ADEE
made even standing difficult

Some of the many small parts found
jammed between the stones
2nd June 2007 - DH Hornet F. Mk1, PX274, crashed 22nd December 1947 - Stacksteads near Bacup.
This was another site known to have been investigated by other groups before, but in the process of carrying out a site survey to pinpoint the crash site it for our records, we came across an area with substantial signals from our equipment, that the landowner assured us had not been touched. Unfortunately this turned out to be right under a gateway that separated and flock of ewes from a ram, so we had to wait until they no longer needed to be separated! Still it gave us time to sort out the permit! We conducted a hand dig on the site, removing rubble in-fill and the remains of the wall, which the aircraft had demolished, finding numerous small parts mixed in with the stone. A surprisingly intact oxygen bottle (considering the force of impact and the fact that it was mounted in the nose!) was found, along with a reduction gear, piston, several engine valves, exhaust stubs, oil pump, parts of an engine bearer, crankcase bolts and numerous fragments of painted wood structure (much of it bearing a quite vivid blue paint finish) etc. A further small cache of parts, revealed during backfilling, uncovered a section of the canopy mounting rail, instrument parts and a couple of "covers" made from a bright blue coloured vinyl material. Finally one of our members, Gareth Brown, located the pitot head - found embedded vertically about a foot down some 30 feet from the impact crater!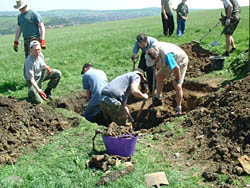 Opportunity to dig such a rare aircraft meant
plenty of volunteers - even for a hand dig!
17th February 2008 - Several projects now being followed up, but unfortunately I am unable to give any details at this stage - However this was our second outing of the year and we were hoping to pinpoint the crash site of an RAF Mustang and ascertain if any significant debris remained at the site. The day proved most successful with the site being pinpointed surprisingly quickly and both our Fisher and Forster machines indicating a substantial target approx six to eight feet below the surface and conventional detectors uncovering numerous small debris close to the surface around a shallow depression. We are presently still in negotiations with the landowner.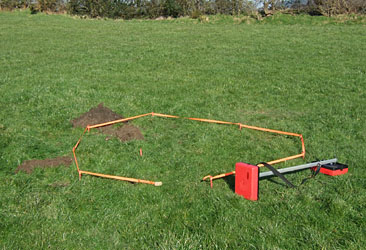 Extent of "100%" readings from both deep seeking detectors
indicated by taped area approx. 8 feet in diameter and lying
in a shallow depression in the field - looks promising!.
This page & all articles on this site Copyright © Nick Wotherspoon 2001- 2008