| | |
| --- | --- |
| | LANCASHIRE AIRCRAFT INVESTIGATION TEAM DIARY |
Last updated: 29.11.2017
This diary was originaly intended to keep visitors to our site up to date with the various current LAIT projects, but we have now decided to substitute it with our Facebook Group - So please join this to keep up to date with what we are up to - everyone is welcome!
Old diary entries are still archived and can be found using the buttons at the bottom of this page.
10th March 2008: P-38 42-12905 - 26th January 1943 - Dunsop Fell
Site visit following information via email from a walker, who we had given location details to enable them to find the site, to say that a small fragment possibly bearing the aircraft's serial number had been found amongst the few debris still remaining. As the official investigation records for the two P-38 that collided are unavailable in the US archives, it has never been possible to establish with any certainty which crash site is actually the remains of which aircraft. My youngest son soon located the fragment (below) and it did indeed bear the aircraft's serial number and manufacturers construction number. Though not conclusive proof at this stage as although unlikely, it is possible that it could have dislodged from either aircraft in the collision. It was however, proof that the cowling and removable panels of these aircraft were marked and a trip to the other site is required, which though attempted, changing weather conditions and lack of time beat us on this occasion.
September 2007 / 28th June 2008: de Havilland Vampire VV602, crashed 1st May 1954 - Wildboarclough, Derbyshire.
Crash site survey and subsequent excavation in association with Alan & Mark of Peak District Air Accident Research - follow this link to see their website for a full report. The aircraft was a Vampire F.B. Mk.5 of No.613 (City of Manchester) Squadron, Royal Auxiliary Air Force and crashed shortly after take off from Ringway for a Cine Gun Exercise over the North Sea, killing its pilot Flying Officer Jocelyn Francis Baverstock Davis of the South African Auxiliary Air Force. The crash site was known to have been excavated several years previously and more recently received attention from an unauthorised "metal detector enthusiast", so the initial intention was to merely to survey and record the site. However we were surprised to record significant if fairly shallow readings and the landowner proved keen to see the site cleared and tidied up, so the project was stepped up to an excavation and the necessary arrangements made.
| | |
| --- | --- |
| | |
| A section of the de Havilland Goblin Mk.2 engine being lifted clear. | A very bent 20mm Hispano! |
24th July 2008: Acquisition of Foerster Ferex 4.021:

Though normal metal detectors have their uses, for this hobby we tend to require something a bit more sophisticated, so a passive differential magnetometer is a must! Our old Foerster 4.015 machine has served us well over the years, but really does weigh a ton and tuning and interpretation of signals is quite an art (and not always 100% successful!), so I felt it was time to upgrade to a more modern machine. However, these units cost several thousand pounds to buy new, so as with our older machines, an ex MOD unit was the preferred choice, though in today's political climate with priority (quite rightly) being given to help country's affected by recent conflicts clear their mines and UXOs these machines rarely seem to find their way onto the open market. Thanks to Gareth Jones, I managed to secure a Foerster Ferex 4.021 machine within budget and it is certainly proving easier to use, with its improved tuning and lighter weight, I hardly ever need the shoulder strap at all - even with my back problems!

11th October 2008: Heinkel HeIII P-4A WkNo.2989 G1+CP - 12/13th March 1941 - Widnes

A detailed site investigation was carried out to identify, pinpoint and record the crash site of this raider followed lengthy negotiations with Halton Borough Council as the site lies on a sports ground area and in fact proved to be now a well used rugby pitch meaning we also had to wait for a window in the playing season - certainly makes a change from waiting for crops to be harvested!!! Although only a few small fragments were found on the day, this came as little surprise and did not detract from us achieving out aim of positively identifying exactly where the aircraft came to rest and burnt out.
Grid searching this area took all day, even with several experienced detectorists.
18 November 2008: P-38 42-12928 - 26th January 1943 - Baxton Fell
Site visit following up on that in March on P-38 42-12905. Now that we knew what to look for, we wanted to examine as many of the removable panels as possible still remaining at this second P-38 crash site to see if any bore similar small sets of stamped identification numbers. The first two panels we found on the approach to the site were not marked and we began to think the worst - but then the third panel was indeed marked and it was "42-12928" plus the correct makers construction number. We went on to find and photograph five panels in total - all marked with the same identity, meaning that we had definitely identified this site and therefore confirmed that of the Dunsop Fell site as well..
17th August 2009: New Book published - Aircraft Wrecks: The Walker's Guide:
This book resulted from a discussion with Alan & Mark of Peak District Air Accident Research in late 2007 as to the best way to deal with the many requests we both receive via email from people wanting to visit crash sites. Though we will still respond to requests on an individual basis, we felt that some form of guide book was the most practical option and between us we certainly had enough material to fill several volumes! As the project grew and we began to consider what the content should be, as we wished to encourage respect for the sites and increase awareness of the legal protection that they have. Also the criteria for inclusion of sites was an important issue and it was decided that the emphasis should be given to those on open access land, with each entry to include accurate verified grid references, up-to-date site descriptions and recent photographs. As there were many sites we had visited over many years, this meant a lot of re-visiting sites, re-photographing and checking and re-checking research notes and writing accompanying material etc. Leaving little time for any other projects. The resulting work covers almost 500 actual sites - without any of the additional topping up with "leads and rumours" found in other works and is also the only such work in print to cover the whole of the British Isles. The book is hardback and comprises just over 350 pages, with some 180 b&w photographs and appendices including part number and inspection stamp identification guides. Sales have been strong with good reviews and feedback and much work as already gone into putting together new material for a future revised edition.
26/27th June 2010: Mustang IV (P-51K) KH838 - 15th February 1945 - Wrightington
A very successful excavation of this site was finally arranged following several years persistence, as the property changed hands (twice!), not to mention fruitless negotiations with the Time Team production team who originally wished to film this dig for their Channel 4 series. In the end the excavation was filmed by the BBC for their Inside Out North West program and this is due to be aired soon - See full details now on our web page.
August / September 2010: Closure of RAF Millom Museum :-(
The bankruptcy and subsequent closure of the RAF Millom Museum, where most of the LAIT collection of recovered artifacts + much of my personal collection of WWII memorabilia was housed, came as something of a shock - particularly as I was in the South of France on a family holiday at the time! Fortunately other members of LAIT were soon on hand to start dismantling our displays etc. and on my return everyone pulled together and we were able to reclaim the majority of our material. Sadly a few smaller items had gone missing and a substantial amount of recovered material from our Time Team dig, that we believed was safely in storage, had disappeared and may have been scrapped. finally, one of our key items - a complete gun turret - had been dismantled, several important parts lost and then the frame left outside exposed to the elements. Consultation with the liquidators advised us that we should formalise these losses by declaring ourselves as creditors which we have reluctantly done, but feel we are unlikely achieve anything through this.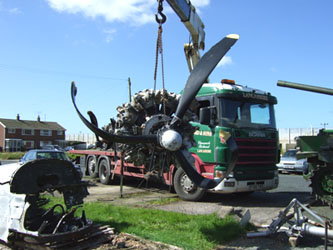 Moving things around in this hobby can be a serious business! Thanks to Tommy Stafford for his professionalism and reasonable rates!
16th January 2010 - Defiant crash site re-visit - Lancashire
2011's first aircraft wreck site hunting foray - Horizontal driving rain, liquid mud underfoot, holes kept filling with water before you could extract the "find" and the Forster got soaked, decided it had had enough and packed in - One bucket barely quarter full of aluminium cornflakes was the result - But a quick clean and several hours careful heating and straightening later, one turned out to be the brass Rolls Royce Merlin Engine maker's plate - Fantastic find, made it all worthwhile :-)
| | | |
| --- | --- | --- |
| | | |
| Ready to call it a day - even waterproofs can only keep this kind of rain out for a limited time! | Not a lot to look at, after the first cleaning, but to the trained eye... | Several hours later and the identity of the aircraft is confirmed |
22nd May 2011 - Crash site visit - Lancaster PD 420
Another wet and very windy foray to visit the crash site of this Lancaster I, abandoned as it ran out of fuel after being diverted on return from a raid on Cologne on the 24th December 1944 - All seven Canadian crew-members bailed out successfully. The site was first located in the 1980s by 2486 (Lytham St Annes) Squadron ATC and it was soon realised that the aircraft had landed mostly intact and been dismantled and removed. In the intervening years one of our members, Russell Brown who was on that early visit, made contact with the pilot and through his correspondence gleaned a full account of what took place that night and photos of the crew involved.
| | |
| --- | --- |
| | |
| We should be getting used to such conditions by now! | Fragments of strips of "Window" lay just below the surface |
31st March 2012 - Excavation - Defiant T3955
Following a couple of re-visits to the crash site of this Defiant, which crashed in May 1941 and was the subject of a major excavation in the early 1980s, we decided that despite indications of only limited remains still being present at the site, we would re-excavate the site in light of its historical significance. This excavation took place at the end of March and although finds were indeed meager, some interesting pieces were recovered and we were able to assess what had caused the extreme damage evident from the components recovered from the first dig. A large glacial boulder at a depth of approx eight feet with distinct gouge marks marked the limit of penetration and the cause of the almost total destruction of the Merlin engine, several pieces of which were found during our excavation. A full write up on this project will appear on this site soon.
| | |
| --- | --- |
| | |
| As the dig progressed we found that the soil was heavily contaminated with minute metal fragments due to the extreme destruction of the aircraft | Half way through the excavation and only meager finds so far, plus two oak blocks that probably supported the original recovery crew's sheerleg frame in 1941! |
22nd April 2012 - Site survey - Jet Provost XW371
This Jet Provost was T. Mk.5A XW371 of No.7 FTS, based at RAF Linton-on-Ouse, North Yorkshire and crashed during a low-level navex flight on 03.07.1979, killing the pilot, Flt Lt Thomas Durk Bayliff, who is buried at St Johns at Kirkby Wharfe, North Yorkshire. The site was located and recorded with Alan & Mark of Peak District Air Accident Research, after obtaining the permission of the landowner, who recalled the crash, which happened whilst he had been at school and he came home to find the crash site taped off and wreckage strewn over a large area.
| | |
| --- | --- |
| | |
| The main crater (with the tall tussock grass growing in it) made by the impact of XW371 and still clearly discernable. | The crater, with the tall grass growing to the left side, runs into a long gouge made by XW371, showing the direction of its approach. |
6th May 2012 - Site Survey - Mustang
In fact this was our third visit to this site, this year, having initially located the approximate area from local witnesses and ascertained the identity of the landowner, we then made contact with him and returned to meet at the site and discuss our intentions. We now returned to carry out a full electronic site survey, whilst we await an MOD permit to excavate it. Obviously full details will be published in due course, but suffice to say indications at this stage look promising :-)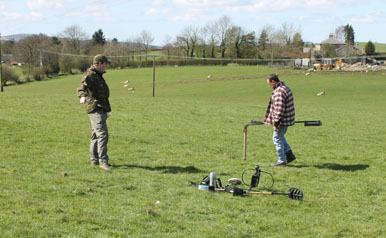 Strong Forster readings were recorded in the main crater area.
This page & all articles on this site Copyright © Nick Wotherspoon 2017